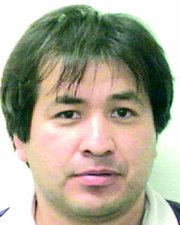 Nearly two years after Daniel Leija was arrested and charged with multiple counts of rape and exploitation, Carrie Taylor is still searching for him.
Taylor, the mother of whom she believes are four of Leija's victims, travels to the Lower Yakima Valley on a regular basis from her new home in Bremerton, searching for clues and talking to people about the man charged with raping her daughters.
Taylor believes that Leija has returned to the Lower Valley on several occasions and that he is still in contact with his family. It was his family who bailed him out of jail in June 2002. He was let out on a reduced bail. Judge Heather Van Nuys lowered his original bail from $250,000 to $60,000, of which only 10 percent was needed for his release.
When Leija was supposed to appear in court, he was actually on a flight to Mexico City and hasn't been seen by authorities since.
A former Sunnyside school bus driver, Leija is charged with 18 counts of first degree rape and molestation, eight counts of second degree rape and molestation, two counts of third degree rape and molestation, 12 counts of sexual exploitation and with jumping bail.
According to Sunnyside Police Department Det. Jim Orth, if found additional charges may be filed against Leija.
Currently, if caught and convicted of the charges filed against him, Leija will spend the rest of his life in jail.
That is a place Taylor would like to see him. Taylor was living with Leija two years ago when her daughters came to her and complained that Leija had been beating them.
The last straw, she kicked him out of the house. It wasn't until the next day that she learned that the abuse went beyond beatings.
Initially, two of her daughters came forward and reported they had been sexually abused. A month after Leija's release a third admitted that Leija had acted inappropriately. Taylor said a fourth daughter is also believed to have been abused, but has not discussed it. Taylor said she didn't know of the abuse because it took place in the evenings while she was working at the hospital.
Police have trunks and backpacks filled with videotape evidence of Leija and his encounters with the victims, said Orth. The tapes were found at a Leija family member's home.
With Leija having family in Texas and Mexico, Taylor believes he is in one of the two locations, but she also has strong suspicions that he has returned to the Lower Valley.
Currently, Taylor is gathering information and trying to have the television program America's Most Wanted do a show on Leija. She is gathering newspaper articles, police reports and a copy of the warrant.
Taylor wanted to enlist the television program's help from the beginning, but said she was told by the Yakima County Prosecuting Attorney's office to wait and let Leija make a mistake.
Asking again, she recently received permission from the prosecutor's office to pass the information on to the television show, which is dedicated to catching criminals on the lam.
"My family basically fell apart after everything," said Taylor. "I turned to drugs because of the guilt. My guilt goes on and on."
In 2003, after turning her life around, Taylor moved to Bremerton to give her family a fresh start, but she still returns to the Lower Valley in search of Leija and clues to his whereabouts.
Taylor met Leija in the mid-1990s, but didn't move her family to Sunnyside until 1996.
"He seemed like a pretty nice guy," she said of the now 42-year-old man.
She believes the abuse of the girls started when the oldest was 10-years-old and continued for four years. At the time the charges were filed against Leija the oldest daughters were 14- and 11-years-old.
Taylor said she is unsure if Leija was selling the videotapes of his sexual encounters with her daughters, but said that police have indicated that they believe he was.
According to Orth, Taylor's daughters aren't the only ones who appear on the video cassettes. But, he said, other victims have not stepped forward.
"I want him found," said Taylor. "My girls suffered greatly."
Taylor is the motivating factor behind the possible feature of Leija on America's Most Wanted TV show.
"When my girls found out what I was doing, at first they were scared, but now they're very happy that something's happening," said Taylor.
"I can't see this getting thrown in a box in a closet and never catching him," said Taylor.
Forgetting the Leija case is the last thing on Sunnyside Police Officer Melissa Rodriguez's mind. She was in the detective's division when the Leija case first crossed her desk, about four weeks before his disappearance.
"I would love nothing more than to have him in custody," said Rodriguez. "He's never forgotten. He's always in the back of my mind."
Unfortunately, she added, they haven't had any leads that have led them to where he has been staying. The last she knew he was in Mexico.
"Mexico is pretty big," she added.
After Leija fled, he was featured in Crime Stoppers, a listing of wanted felons. According to a Crime Stoppers spokesperson, Leija was reportedly seen last fall in Pierce County, but when the home was checked he was not living at the address.
Crime Stoppers is looking at reissuing a public notice for Leija's capture.
Rodriguez is excited about the possibility that Leija may be featured on America's Most Wanted.
"The more publicity the better," she said.
Orth added that if Leija is visiting the Lower Valley or if someone knows where he is, people need to step forward with that information.
"We need him in custody for public safety," said Orth. "I don't care where he's at, he's a danger to kids."