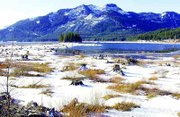 For weeks, the 2005 water storage forecast has been dismal. The winter snowpack and precipitation in the mountains has been at an all time low, pointing towards what irrigation officials fear will be the worst drought on record.
That fear was confirmed Monday afternoon when the U.S. Bureau of Reclamation issued its 2005 Yakima Basin Water Supply report at a meeting in Terrace Heights.
Hardest hit in the coming growing season will be the junior water rights users who, according to the Bureau, will only receive 34 percent of the storage system's water. But Roza Irrigation District officials are making preparations to deal with what may be closer to 18 percent water availability in their 72,000-acre district.
The 2005 water supply will be in very short supply, said David Murillo, Bureau of Reclamation Yakima project manager. He likened the coming drought to record lows in 1977 and 2001, but said unlike those years, relief from the unseasonably dry winter is not likely to change.
Record low April to September run-off is predicted and there doesn't seem to be much relief in sight as weather, both short and long range, forecasts call for continued warm and dry conditions through May.
Murillo reported the Yakima Basin storage system is at 106 percent of average, but even if future weather conditions are favorable, the water supplies will not be adequate for this year's growing season.
"I think we are going to see a lot of farmers pulling out their trees," said Granger farmer Tom Carpenter "This year is going to be devastating to the region," he said.
"Some hard decisions are going to have to be made by our farmers," said Ron Van Gundy, manager of the Roza Irrigation District. He announced the Roza District is already making plans to begin seeking water right transfers as it did in the 2001 drought.
"Farmers are going to have to choose between farming or using their water for the survival of their trees and vineyards," he said.
"We are looking at only having 18 percent of our average supply available," said Van Gundy, adding that 2005 is going to be another year of paying farmers not to farm.
During Monday's water forecast meeting, Roza officials announced the district's plan to begin offering $300 per acre to farmers to let their ground go fallow this summer.
"Water transfers may be some of our farmers' only saving grace," Van Gundy predicted. In order to gain more water, the farmers will be seeking help from their neighbors in irrigation districts, most notably SVID.
As Roza officials are gearing up to begin the process for water transfer purchases, which will need the approval of the courts, the Yakima River Basin Storage Alliance (YBSA) announced its plans to push to secure federal funding to complete the Black Rock Reservoir feasibility study.
This year's water supply is one more indicator of the serious need for additional water storage, such as the proposed Black Rock Reservoir, said Sid Morrison, YBSA chairman.
Black Rock Reservoir involves the inter-basin transfer of water from the Columbia River to the Yakima River Basin, and is expected to cost nearly $4 billion to construct according to the latest Bureau of Reclamation estimates.
But still, the cost is small if as proponents claim, farmers could use water from the Columbia when water flows are high. The water will be pumped and stored in the Black Rock Reservoir, just north of Sunnyside in the Black Rock Valley.
This year, more than any other year, it is clear that to postpone moving ahead with the Black Rock Storage feasibility study will only cost the Yakima Basin more money, Morrison said.
The coming drought is expected to cost the Valley upwards of $1 billion, he said. "The financial loss to everyone in our region makes the Black Rock construction look like a bargain," he said.
"This year may be extreme, but we all know our water supply problems aren't going away," he said, noting that the last mountain storage reservoir was built the year he was born, 1933.
With weather conditions changing yearly and the snowpack line steadily receding it is imperative now alternatives move ahead, he said.
Just a month ago, the U.S. Bureau of Reclamation announced that its assessment of the Black Rock reservoir will cost upwards of $4 billion, but the one time cost to build the reservoir north of Sunnyside is a still a very prudent investment, said Morrison.
The cost of doing nothing is just too high, he said.
Meanwhile in Olympia, state lawmakers are gearing up for a swift response to the drought conditions, led by Representatives Bruce Chandler and Dan Newhouse.
Newhouse has already introduced legislation to create a joint legislative committee on water supply during the drought, which he hopes will ensure water users have access to drought wells that have been permitted for temporary water use.
Chandler and Newhouse are working in finding alternatives to the current water situation. Both agree some kind of plan needs to be put into place immediately. They hope to make the water transfer process smoother and to make funds available to facilitate those transfers. The Valley lawmakers are also working with the Department of Ecology to bring about a drought condition order as soon as possible.
"There is no doubt about it - with the snowpack level where it is today, and coming out of one of the driest winters in years, we are going to feel the (economic) sting," said Newhouse. "We have to tackle this critical issue head-on, " he added.
Roza officials are starting the water rights transfer process this week, said Tom Monroe of the Roza District. He said junior water right users in the Roza can seek to purchase temporary water transfers for the 2005 growing season much the same way as was done during the drought of 2001.
"We'll have to get the approval of the SVID Irrigation District and the courts will have to approve the temporary transfers," he said.
Monroe said it is the Roza District's goal to operate the canals from June 1 through August 31, hopefully with only a few shut-offs, he explained.
"But it doesn't look good, any way you look at the coming season," he added.