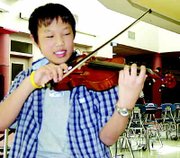 For a vast majority of his somewhat short life, Anthony Kim has spent time carefully honing his craft. And later this week he will have a chance to take that craft and put it to use, playing his violin as a member of the All-State Orchestra, one of the largest orchestras with which the 14-year-old has ever played.
Kim started playing the violin at the age of four. He remembers back 10 years ago when his parents took a business trip and left him to stay with one of his friends. Kim said while he was staying with him, his friend had a violin lesson and Kim accompanied him.
"I though it sounded cool," Kim said, adding that when his parents returned he convinced them to provide lessons for him.
Kim said he enjoys playing the violin because it's something that can never be done perfectly.
"So you can always get better," he said.
Kim said he spends about three hours practicing on the violin on Mondays, and tries to set aside an hour a day every other day to practice the rest of the week. Practice time doesn't include the classroom time he spends as a member of the Sunnyside High School orchestra.
Although this is Kim's first year working with the Sunnyside High School orchestra it is not his only experience playing with an orchestra.
He started playing with an organized group four years ago as part of the Yakima Ensemble for Strings. He explained that the group was comprised of young people who played nothing but string instruments.
It wasn't until he was in seventh grade that he started playing with a full orchestra as a member of the Yakima Youth Orchestra. Kim said he now travels to Yakima once a week, where he takes his violin lessons and then practices with the youth orchestra.
Kim said the Yakima Youth Orchestra performs about six times a year, so he's no stranger to live performances. In fact, he said just last weekend he took part in the annual Kinderconcert at Yakima's Capitol Theatre. Kim said the weekend before that the Yakima Youth Orchestra opened for the Yakima Orchestra, playing in front of a full house.
Although Kim has been playing the violin for a decade, this is the first year he was old enough to try his hand at qualifying for the All-State Orchestra. Kim said his violin teacher told him about the competition when he was still in eighth grade, and knew that it was something he was going to do this year.
In order to audition for All-State Orchestra, Kim said he had to make a recording of himself playing the violin and mail it away. He said he waited a couple of months before he heard he was one of approximately 200 students to be accepted to the All-State program of the 2,000 who submitted recordings.
Kim will be leaving this Thursday for the University of Puget Sound in Seattle, where he will spend three days practicing with the rest of the All-State Orchestra students. He said the orchestra will perform at the university this coming Saturday.
Kim said he is excited about the chance to meet new people. He is also looking forward to playing with one of the largest orchestras with which he's ever performed. He added that he has spent the last month practicing the pieces the group will be performing this weekend.