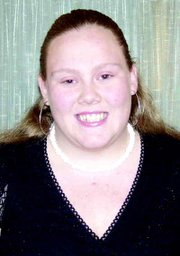 Desireé Pritchett, a senior at Sunnyside High School, hopes to one day operate her own 10,000-head dairy. In the meantime, Pritchett is learning the rudiments of herdsmanship under the guidance of her father, a retired dairyman.
The 17-year-old daughter of Dewight and Lillian Pritchett of Sunnyside is also a candidate for the 2005 Yakima Valley Dairy Princess crown.
Pritchett was introduced to the Yakima Valley Dairy Women Association recently as part of an information night for prospective candidates, according to Carol Van Slageren of the dairy women's group.
Pritchett was the only young woman to show an interest in becoming a candidate this year, Van Slagergen said.
As the sponsor of the Yakima Valley Dairy Princess program, the group seeks candidates who are between the ages of 17 and 24 who are involved in any phase of the dairy industry or who are personally involved in dairy 4-H or FFA.
"Desireé is certainly involved in the dairy industry," said Van Slageren.
A member of the Sunnyside High School FFA, Pritchett is currently raising her own small herd of dairy stock. She is also using the knowledge gained as a herdsman to complete her senior project.
Pritchett is currently caring for four milk cows, nine bred heifers and is raising A-I breeding bulls, said her mother.
While Pritchett is centering her senior project around a study of veterinary medicine, her hope is to one day operate her own dairy.
In addition to being active in her high school's FFA chapter, Pritchett also is a member of the Sunnyside High School bowling team and is a member of the high school orchestra.
Her future education plans include earning a degree in business administration.
Pritchett expects to be crowned the 2005 Yakima Valley Dairy Princess at the Dairy Women's annual coronation banquet to be held in late April, said Van Slagergen.
"We are looking at bringing the banquet back to the Lower Valley this year," she said.
For the past several years the banquet has been held in Yakima, she explained.
"This year we are hoping to hold the banquet closer to home," she said, adding there is talk of possibly holding the event at the Navarro Family Community Center in Sunnyside.
In addition to the coronation of the incoming dairy princess, the dairy women will award several dairy scholarships, as well as honor those persons determined to be friends of the dairy industry, she added.