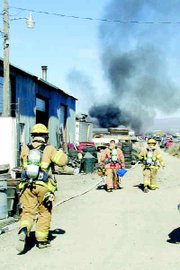 Monetarily, very little was lost in a fire at Tee-Pee Auto Wrecking on Outlook Road yesterday. But according to Fire District #5 Battalion Chief Pat Mason, it is a reminder that conditions are dryer than normal this year.
Employees of Tee-Pee Auto Wrecking were using a torch on one of the cars when the fire started, said Mason. The fire spread, torching about four cars and parts of three additional vehicles.
The monetary loss is estimated at $500.
Without the usual spring rainfall, the Lower Valley has already experienced grass fires.
"Because we've not got any rain, everything is as dry now as it usually is three or four months from now," said Mason.
He said people who are used to burning this time of year are losing control of their fires because it's dryer than they think.
"A lot are losing control because the conditions are worse than usual," he added.
In total, 12 firefighters were on the scene Tuesday to extinguish the blaze.
Mason said it was a bit more difficult to fight the fire because they had to walk back into the wrecking yard to get to the fire.
"We had to run 700 or 800 feet of hose from Outlook Road into the fire," Mason added.