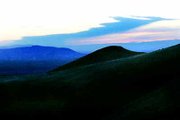 Yakima County residents had a visible reminder of the power of Mount St. Helens this morning (Wednesday) as they went out to start their vehicles for work.
The Lower Valley, along with parts of Grant County, was covered with a light dusting of volcanic ash released during Tuesday's volcanic eruption of the restless mountain. The ash was cast thousands of feet into the atmosphere late Tuesday evening after the Pacific Northwest Seismograph Network reported a 2.0 magnitude earthquake at the Southwestern volcano about 5:25 p.m.
The National Weather Service in Pendleton Ore. issued an ashfall advisory Tuesday night, but lifted the advisory about midnight, said Dennis Hull of the weather service. He said there were reports of ash falling as far east of the mountain as Mattawa in Grant County. Reports of ash falling in Yakima County ranged from White Swan to rural Sunnyside, where residents awoke to see a thin layer of the volcanic ash covering their windows and cars.
"We haven't received any health advisories from the Yakima Health Department," said Jim Hall of the county's office of Emergency Management. However, he encouraged those people with respiratory problems to use caution when working outdoors for a few days until the ash settles.
Bill Steele of the Pacific Northwest Seismograph Network at the University of Washington said the eruption was nowhere near as severe as the eruption of 1980, when the state awoke to find more than 1,000 feet of the mountain had been blown away, destroying 200 homes and killing 57 people. The May 18, 1980 eruption reduced the mountain from 9,677 to 8,364 feet in height.
The Pacific Northwest Seismograph Network has been closely monitoring the mountain since late September 2004, when it began showing increasing signs of volcanic activity. As recently as last week, the Mount St. Helens' visitors center was scheduled for reopening.
Locally, the situation continues to be monitored, but for now there doesn't appear to be any danger to county residents, said Hall.
He advised residents to wash, rather than try to dust the ash from their cars. "The ash will scratch the surface of the vehicles," he added.