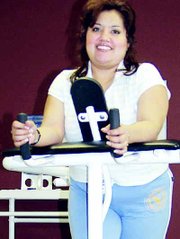 Imelda Vargas didn't start out as an employee at Sunnyside's Curves for Women. Instead, she started by working out at the all-woman workout facility.
Vargas, who just marked her first year anniversary working at Curves for Women, said she starting working out at the facility with a little encouragement from her sister. She said she was drawn to the all-woman atmosphere and the fact there was someone on hand to show her how to use the workout equipment.
When an opportunity came up for her to spend a few hours each Friday afternoon working at Curves, she knew it was something she couldn't pass up.
"I could exercise and it was my work," Vargas said.
She spends every Friday from 3:30 to 7 p.m. manning the desk at Curves for Women, introducing new members to the different pieces of exercise equipment and showing them how the Curves system works. She explained that the Curves plan is for women to exercise three times a week, 30 minutes each session, to stay healthy and fit.
Vargas, who is married and has two children, said she enjoys working at Curves because it gives her a chance to interact with a variety of women. She said the people who work out at Curves include both young and old, alike, as well as people of different shapes and sizes.
"We're all here to get in shape and be healthy," Vargas said of everyone who works out at Curves.
She added that she also likes her part-time job because it gives her a chance to help people. She said she can help people get the most our of their workout and therefore lead healthier lives.
"The more they put into the machine, they more they get out of it," she explained.
When Vargas, who grew up in Sunnyside and now lives in Granger, isn't working at Curves for Women she works as a nutritional assistant at Women, Infants and Children (WIC) in Sunnyside.
Working at WIC, Vargas said she gets a chance to teach people the importance of nutrition and how to get the most nutrients out of the food they eat.
Looking at both of Vargas' jobs it's easy to see there is a common link, they both involve making sure people live healthy lives.
"I like helping people," Vargas said. "I get satisfaction from feeling that I'm helping somebody."