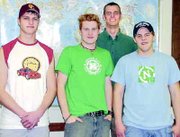 There was no sign of stage fright this year as the Sunnyside Christian High School Apple Bowl team faced the bright lights and cameras that come along with the high school knowledge competition.
The three team members and one alternate are forced to stand side-by-side, Jeopardy-style, facing another team from an opposing school. Then the questions start coming...translate this French phrase, calculate this math problem and tell us what the chief export of this little known country is. One by one, the students on the two teams buzz in, provide an answer and wait to see if they are correct. A correct answer builds points for that student's team, and in the end it's the team with the most points that is left standing.
This year the team, comprised of Captain Jake Bosma, Jon Buescher and Micah Koopmans, along with alternate Samantha DeRuyter, managed to do something no other Apple Bowl team at the school has ever been able to do. The team managed to push ahead through the single-elimination competition, ultimately finishing as one of the top three teams in the area.
Apple Bowl Advisor Russ Smies said during the first round, Feb. 9, his team took on the team from Toppenish and beat them. That gave Sunnyside Christian a second-round bye. It wasn't until nearly a month later, March 2, that the Sunnyside Christian team competed again, this time taking on the team from Eastmont.
"That was a 10-point game," Bosma said of the match-up against Eastmont.
The win over Eastmont put the Sunnyside Christian Apple Bowl team into the semi-finals, a place the school had never been before.
Earlier this week the Sunnyside Christian team found itself taking on Ellensburg in the semi-final competition. Although Sunnyside Christian wasn't able to stave off the Ellensburg team, the squad still managed to finish its season as one of the top three Apple Bowl teams from a 25-school field.
Bosma said the most challenging part of competing as a member of the Apple Bowl team is just knowing that you're on the spot, adding that it's also important to know your stuff.
Smies explained that the Apple Bowl isn't something students can necessarily study for, instead they just need to have a natural wide-breadth of knowledge.
The team at Sunnyside Christian School didn't simply volunteer to take part in Apple Bowl. Smies said after winter break he opened up his classroom at lunch and those students who were interested in being on the team spent lunch time after lunch time answering questions, and trying to make the team.
Smies said only the top four students make the team, adding that this year about 17 students tried out. He added that the final team was selected just a week before the competition started.