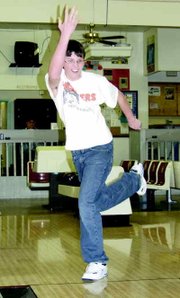 Practice makes perfect. So believes 14-year-old Tanner Schaneman.
The Harrison Middle School eighth grader could easily be described as a bowling junkie.
This past Saturday, Schaneman was rewarded for the numerous games he has rolled at Sunnyside's Valley Lanes over the course of the past four years. Competing in Junior League play, he set an all-time Lower Yakima Valley youth bowling record by tossing a three-game set of 803. His games were 256-268-279.
With an ultimate goal of some day being a touring member of the Professional Bowlers Association, Schaneman already has down pat the practice regimen that is required to take the leap into the world of professionals.
Valley Lanes owner Rob Rice, a PBA member himself, said Schaneman's record setting 803 is a testament to the many hours the youngster spends at the local bowling establishment.
"You might say Tanner is a product of practice," said Rice.
Rice's wife, Sue, said Schaneman spends so much time at Valley Lanes that he's now practically a member of the family.
"I think he likes being here at the bowl with the others who show up regularly, and I know he likes his time on the lanes," she said.
Exactly how much time does the Sunnyside teen spend working on his game? Put it this way-if the Rices were to hand out ownership shares in their bowling center for every game a person bowled there, the couple would be taking orders from Schaneman, who in all likelihood would be the majority stockholder.
The 803 series Schaneman notched last Saturday wasn't a fluke. Currently holding a 204 average in league play, he regularly rolls 600-plus series. He also is one of only two junior league bowlers ever in the Lower Valley to have topped the 700 plateau-the other being the Rices' son, Brandon.
"I shot a 727 last year," the soft-spoken Schaneman admits almost sheepishly.
For those who wonder how much of a feat it was for the 14-year-old to soar above the 800 three-game series mark, consider that no junior league bowler from the Tri-Cities to Yakima has ever reached that milestone. In fact, it's widely believed that Schaneman is the youngest bowler in Washington state to have ever bowled an 800-plus series.
"I know there have been a few junior league bowlers in this state who have made an 800, but they were in the 17, 18, 19-year-old age group," said Rice. "I'd say in all probability Tanner is the youngest bowler in Washington to have ever bowled an 800."
Schaneman said when he opened last Saturday's three-game set with a 256 he didn't really have a clue of what was to come. What he knew was that he had found a groove in sending his Ebonite X-Calibre out to the 12-board. Schaneman stayed on that line the second game, and surprisingly the oil pattern held, allowing him to up his score to a 268 in the second contest.
"I never had to make an adjustment," he said, explaining that the 12-board shot held up even in the third game, in which he opened with nine consecutive strikes.
It was when he recorded his seventh straight strike that last game that Schaneman started thinking 800.
"I thought...maybe," he said.
Heading into the 10th frame, with a potentially perfect 300 game still intact, Schaneman knew he had to mark to reach 800. His strike streak ended when he got tapped on a shot to the pocket, but the steady-eddy converted the spare and then struck in the fill frame for a 279.
Pretty heady stuff for a 14-year-old?
Well, apparently not if you're the majority stockholder in the local bowling alley.