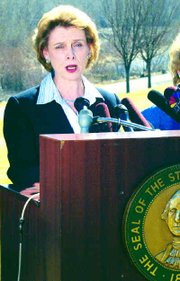 YAKIMA - Describing today's weather at Sarg Hubbard Park as an August day in March, Governor Christine Gregoire signed an order this afternoon authorizing the Department of Ecology to declare a statewide drought emergency.
The declaration effectively gives the Department of Ecology the authority to move ahead with emergency water right transfers, lift the moratorium on well drilling and authorize expenditure of emergency drought funds.
Gregoire also announced she was asking the state legislature to appropriate more than $10 million for emergency drought funds. Currently, there is only $1.8 million in the Department of Ecology's emergency drought fund. She added that she is also going to be contacting federal lawmakers to ask for their support in providing funds to deal with the emergency drought.
In addition to allowing for emergency drought funds for farmers, she also said part of the money would be used for those with junior water rights and municipalities that will also be suffering from the effects of the 2005 drought.
Gregoire signed the order while standing on a knoll at Sarg Hubbard Park. In the background the Yakima River, which is currently at its lowest natural flow for this time of year, could be seen.
With Gregoire was the newly appointed Director of the Department of Ecology, Jay Manning. He said his department will be helping farmers, communities and streams get the water they need.
Unfortunately, he couldn't promise everyone would get all the water they need.
"But we will try to provide enough water for people to get by and we will manage water supplies the best we can," Manning said.
Gregoire has created an emergency drought committee to function like an emergency command center. She said the committee will be charged with tracking and coordinating response efforts by state agencies, making sure resources are getting to where they are needed.
Gregoire announced she has contacted all of the state departments and is asking them all to work together to identify and address any economic and employment issues that will be effected by water shortages.
She added she is also talking with the National Guard to ensure they are geared up in case of fires, which will come as a result of the water shortage. Gregoire said she plans to ask the legislature for another $8.2 million in funding to support firefighting efforts.
Gregoire told the core of reporters from across the state, as well as farmers and government employees who were on hand for the governor's first eastern Washington press conference, that she is whole heartedly making sure that everyone in the state responds to those people who are in need of water this summer.
"I'm directing all who are concerned to put their feet to the pedal to help," Gregoire said. "While water shortages won't affect all areas in the state in precisely the same way, it's likely all areas of our state will experience at least some level of drought this year.
"We need to start taking action now and all of us need to part of the solution," she said.
As part of her comments this morning, she added she is throwing her support behind moving forward with the Black Rock Reservoir. She has talked with fellow governors throughout the west to line up their support for funding of the reservoir project.
Gregoire said she realizes irrigators in the Yakima basin are being hardest hit, but noted that even western Washington water utilities are getting ready to dust off their drought response plans.
The outlook is also poor for the fish bearing streams in the state.
"We must all conserve," Gregoire said. "Citizens need to pay close attention to conserving water during the coming summer. Leave your car dirty, don't hose down your driveway."
The emergency declaration goes into effect immediately.
Gregoire said she is asking the Supreme Court judge who deals with water rights in the state to conduct weekly hearings to deal with water right transfers as soon as they become available. She said this will help further expedite water right transfers as they begin appearing before the court.
Tom Monroe, project operations manager for the Roza Irrigation District, was encouraged by Gregoire's remarks, saying any money she is able to obtain will help offset the use of Roza funds during this crisis.
Monroe had said earlier this week that the district will begin using natural flows in the irrigation system as of Monday. However, he said, those flows won't continue much past April.
Record high temperatures up and down the Valley are furthering the need for water availability. Long range weather forecasts do not look promising. According to the National Weather Service, the state of Washington will continue to have warm and dry weather through May.
"We're not optimistic that the forecast will change," Gregoire said. "It's imperative we begin taking action now."