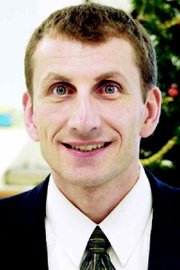 The Sunnyside Chamber of Commerce is shifting gears and Rado Harrington is behind the wheel.
Harrington took on a new responsibility last month, throwing another title into his hat. Harrington now serves as executive director of the Chamber of Commerce, as well as the executive director of the Sunnyside Economic Development Association (SEDA).
The two positions may seem completely different, but Harrington said he thinks they work together a lot better than some may think.
He noted that although SEDA is looking at economic development in Sunnyside, the Chamber of Commerce can help in that arena, as well. He explained that he hopes to expand the Chamber, not only in the number of members, but also in the variety of responsibilities it takes on. Harrington hopes to see the Chamber take on not only events and tourism, but also provide more comprehensive services to its members, as well as work on some economic development issues.
"I'd like to get a lot more people involved," Harrington said of the Chamber.
Harrington is hoping to strategically align the Chamber and SEDA, noting that he sees part of his role with the Chamber being to provide positive leadership. He added that he also works to represent both the Chamber and SEDA at various public meetings, explaining that as far as the Chamber, goes him taking on that role frees up time for new Marketing and Events Coordinator Carrie Stone. It allows her more time to concentrate on those things happening through the Chamber.
Not only is Harrington himself working to help both the Chamber and SEDA, he explained that he is also trying to cross train other members of the Chamber staff. He said he trying to get Stone a little more involved with economic development issues, which he feels will ultimately help the Chamber.
"I'm trying to encourage the Chamber to get back to business development," Harrington explained.
Business development is just one new avenue Harrington is helping the Chamber explore. He added that he is also hoping to get the local organization more involved in things like legislative issues that could affect local tourism and business development, as well as looking more at how Sunnyside can become a tourist destination.
With the Chamber working to branch out, Harrington is hoping to see more participation by its members. He explained that with more opportunities for people to volunteer their time and really gets hands-on with the Chamber, he is hoping to see more involvement.
Harrington said the Chamber currently has approximately 180 members, noting that he is hoping to push the organization to get out and recruit new members from the more than 900 businesses in Sunnyside.
However, recruiting new members is just one part of what Harrington is hoping to do in his new role. He said he would like to see the Chamber offer more member services and to increase the visibility of its membership.
Ultimately, Harrington said he would like to generate enough interest in the Chamber that instead of the Chamber having to go out and recruit members and volunteers, those volunteers will be asking the Chamber how they can get involved.
"We are trying to serve the community interests as a whole," Harrington said.
But just because the Chamber is working to refocus itself doesn't mean that Harrington plans on decreasing the number of events the Chamber sponsors. Instead, he said the Chamber is hoping to double the number of events it puts together every year.
Harrington may be working as the executive director of both the Chamber and SEDA, but he said taking on the new challenge of working with the Chamber hasn't been too strenuous.
Harrington said he typically spends about five hours a week working specifically on Chamber activities, noting that he serves more as a liaison between the organization and other entities. He added that he also provides consulting-type services to the Chamber.
He added that the Chamber is paying SEDA a small fee for his services, explaining that he is still paid through SEDA.