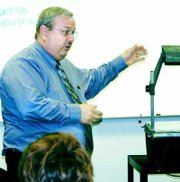 Monday wasn't the first time Dennis Birr has announced his retirement as a principal, but it is the first time he isn't retiring just to be rehired in a different position within the Sunnyside School District.
Earlier this week, the Sunnyside High School principal for the past four years announced he will be stepping down to retire for a life of leisure in Las Vegas, Nev.
"No, I'm not going for the gambling," he chuckled.
Birr said he and his wife, Pat, a former Grandview school administrator, have long talked about retiring to Nevada for the state's recreational opportunities and the weather. "I'm going for the opportunity to see more professional rodeo events and NASCAR events," he said, admitting he is a big fan of both sporting events. "Las Vegas is the home of the national professional rodeo finals," he said.
"Besides, our daughter Marji lives in Las Vegas," he added.
Birr's decision to retire marks the end to 25 years in the Sunnyside School District. He served as both an assistant principal at the high school before being hired as an assistant principal at the then Sunnyside Middle School. Following a series of administrative retirements in the late 1980s, Birr became the principal of the junior high school. He was instrumental in renaming the junior high to a middle school and served the building through two major remodeling and renovation projects.
Birr was one of the first Sunnyside School District administrators to take advantage of the state's retire-rehire program four years ago. Birr, who had served as the principal of Harrison Middle School for 17 years, retired from that position to take on the challenges of being the Sunnyside High School lead administrator. That was four years ago.
This past Monday, Birr gathered his staff to let them know that July 31 would be his last day as their boss.
"I think I'm leaving the high school in a good place and am looking forward to ending a 34- year career in education," he said.
"Talking to the staff about retiring was a pretty emotional time for me," he said.
His decision to retire as the middle school administrator in 2001 to become the high school principal raised some eyebrows in the community, but after what Birr calls a rocky start as the high school leader, he and his staff began a four-year self-study plan to revamp the high school to better address learning issues facing today's students.
"We have a great, professional staff here at Sunnyside High School and I'll miss them," he said.
Birr said he is proud of the staff for its acceptance of new programs impacting increased student learning. The newly adopted best practices programs are already showing fruit for their efforts, he said.
"We are already seeing an upswing in our assessment scores," he explained.
One of the best practices Birr boasted of is the staff's joint emphasis in making literacy improvement in all subjects.
"We're not islands of independent study," he explained. "The English department isn't solely responsible for literacy improvements. We have become a true learning community, working together to build on successes," he said.
"Now we are seeing parents wanting more than just the data related to test scores. They want to know how to help and are demanding the classes to make achievement occur for their students.
"That's a big change in the way we do things now, as opposed to 34 years ago," he said.
"It's an improvement for the better," he admitted.
Birr said he has given his letter of retirement to Sunnyside School Superintendent Dr. Rick Cole, who will present it to the Sunnyside School Board at its March meeting.
As the district begins the process of seeking Birr's replacement, the district will open the high school principal position on March 25 and will begin screening of applicants in May.
The district will include high school staff in the screening process, as well as the interview process. The district hopes to have a new high school principal named by late May.