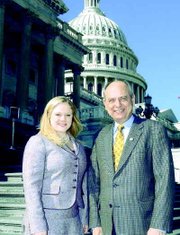 WASHINGTON, D.C. - Congressman Doc Hastings (R-Pasco) has hired Stephanie Michels of Grandview to serve as an intern in his Washington, D.C. office.
"Stephanie is doing an outstanding job in my office," said Hastings.
"Her work ethic, professionalism and sincere concern about issues impacting Central Washington are evident and will serve her well in the future."
Stephanie Michels, daughter of Kirk and Shari Michels of Grandview, is a junior at the University of Washington, where she is a double-major, working towards degrees in political science and international studies: comparative religion.
Michels said she has learned a great deal about the inner-workings of Congress and has gained valuable hands-on experience.
As an intern in Hastings' Washington, D.C. office Michels assists with constituent relations, attends congressional briefings and committee hearings, conducts legislative research and assists with clerical duties.
Michels is a 2002 graduate of Grandview High School.
Hastings encourages students interested in interning in any of his offices to call his Washington, D.C. office at 202-225-5816 for information.