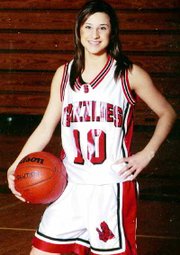 People in the Lower Valley have long known that Sunnyside's Andrea Phillips is both talented on and off the athletic field.
Phillips, who is also Miss Sunnyside, has obviously found some people outside of the Valley who value her talent.
Phillips has been selected to play in the prestigious Washington State Coaches Association All-State Basketball Game.
Phillips, a senior standout on the Sunnyside High School girls basketball team this past season, is one of 60 seniors from around the State who will fill Thomas Jefferson High School in Federal Way on Saturday, March 19. Phillips will be playing in the 2A/3A All-State game at 3 p.m. Other games will also be played throughout the day, representing the different classifications, including B/1A and 4A.
"I am excited," said Phillips. "I think it is going to be really fun."
Phillips did admit that she wishes she had found out about the All-State game a bit earlier, as she would have never put her basketball away and kept practicing. Phillips said she learned about the honor from Sunnyside High School girls basketball coach Leo Gomez last weekend.
"It is going to be tough," said Phillips. "I am confident, though."
Phillips said she is not only excited to be playing in the game itself, but is looking forward to meeting the other girls who will be at the prestigious senior-filled game.
The night before the game, Phillips will be meeting her teammates and then will be treated along with her family to a dinner and then a fun evening on the town. Saturday will be filled mostly with practice and picture taking before the actual games take place.
Phillips averaged 12.6 points per game this season for Sunnyside with five rebounds and averaged in the neighborhood of 2.3 assists.
"It will be really fun," said Phillips of the All-State game. "It will be a good way to go out."
&nbsp