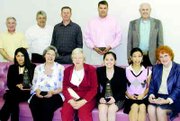 Deception, white lies and bribery were used to ensure the winners at this year's Sunnyside Chamber of Commerce awards banquet were in attendance at this past Saturday night's gala held at Navarro's Family Community Center.
For example, this year's Outstanding Senior Citizen Award winner thought she was at the banquet in support of one of her grandchildren. Turns out her family tricked her in to getting her to the banquet. Pat Barr is known as a woman of service, said Greg Smith, the evening's emcee. Reading the notices from the nomination form, which sealed her selection as the 2005 award winner, Smith said, "She believes the best about people and always has time to listen."
In addition to a career as a waitress, secretary and volunteer, the mother and grandmother is also active in the Outlook Grange. She always helps with such community events as the annual Senior Citizens Thanksgiving dinner, Hershey Track and Field meets and Special Olympics events. Barr is always giving rides to her neighbors and shut-ins, said Smith.
Outstanding Educator of the Year Joanne Kilian took her turn on stage to announce her plans to again seek election as a Sunnyside School Board Director.
Kilian, who currently is the chairman of the Sunnyside School Board, has seen the enrollment in the district go from 3,599 in 1983, when she was first elected to the board, to 5,671 students, as of February 2005.
Kilian said she thought she'd step down as a school board member, but was inspired to continue serving after reading how old such men as former President Ronald Reagan were when they did great things.
"Men like him were all in their 70s when they sought election. I think I have a few good years yet ahead of me," she said. "I'm ready to go again."
Taking home the Outstanding New Business Award was Amanda Blount, owner of Amanda's Lingerie Closet in downtown Sunnyside. The young businesswoman opened her specialty shop in April 2004 and has seen steady growth in her clientele. She has even developed a web site for her store and plans to expand her business to be certified by Fantasy Tanning, a new spray application tanning method.
In addition to lingerie, Blount's shop has expanded to also carry a line of swimwear in the short year since she opened her doors.
The enterprising Lizeth Chiprez was named this year's Outstanding Youth by the Chamber nomination board.
"She exemplifies the qualities that they look for in our young leaders in our community," said Smith.
Chiprez not only carries a full academic load at Sunnyside High School, where she is a senior, she has developed a program to assist fellow students needing tutoring to handle their SAT exams.
Chiprez said she is currently training other students to carry on the program once she graduates in June.
Long-time community supporters and business people in the community, Dick and Maxine Van de Graaf, were honored as this year's Outstanding Business People.
The couple owns and operates Van de Graaf Ranches located south of Sunnyside, a family business which has consistently been rated by the Washington CEO magazine as one of the top 100 privately owned companies in Washington state.
The couple, who have made Sunnyside their home since 1959, are both avid supporters of Sunnyside, donating time and money to such community projects as the Lower Valley Pathway, Ben Snipes Cabin Park and the Ren Farrell statue.
Mrs. Van de Graaf has served on the Sunnyside Community Hospital board and he served on the Sunnyside School Board and is a past president of the Yakima County Cattlemen, Washington State Cattle Feeders Association and even served on the Washington State Beef Commission.
Sunnyside Port Engineer Bob Farrell was named the Outstanding Public Employee this past Saturday night.
Farrell has dedicated himself to assuring environmentally friendly and economical operation of the industrial wastewater treatment facility he oversees, said Smith.
As the Port has continued to expand its services to industrial users, Farrell has been a leader working with the Department of Ecology, and more recently with the U.S. Army Corps of Engineers to develop the Port's wetlands habitat, which is designed to benefit both wildlife and the future growth of industries in the Lower Valley.
Abarrotes Casa Mia, owned by Audel Estrada, was selected as the Chamber's Outstanding Community Beautification project.
Estrada, who owns Audel's Music and Audel's Fashions in Sunnyside, began remodeling what was just a little corner store at the corner of North First Street and Warehouse Avenue nearly a year ago. Being a workaholic, he wasn't present at Saturday's awards ceremony, so his friend Rosa Garcia accepted the award for him.
Dr. Greg Norell of Spavinaw Dental in Sunnyside was named the Chamber's 2005 Outstanding Healthcare Person of the Year.
Norell opened his dental practice in Sunnyside in 2002, and has devoted his time to the Hispanic community. Norell is a contracted dentist and community partner with EPIC and the Washington State Migrant Council. He has also worked with the Washington State Dental Foundation to establish the Cavity Free Kids program in pre-schools. In addition, he operates a mobile clinic that travels from Mattawa to Hermiston, Ore. to visit Headstart sites, schools and childcare centers.
Sunnyside Planning Commission Chairman and the chair for the Sunnyside Lighted Farm Implement Parade, Jim Warren, was named the Chamber's Outstanding Volunteer of the Year.
Warren, who is also a businessman, not only volunteers his time for the winter parade and is on the city planning commission, he is involved in the Community Accountability Board, Yakima County Conference of Governments and is active with the Sunnyside Fourth of July Soap Box Derby.
Dairymen Bill and Sid Wavrin were honored as the Chamber's Outstanding Agri-Business Persons.
The brothers moved to the area in the 1990s, when Bill opened Veterinarians Outlet in Sunnyside and Sid operates the family-owned dairy, Sunny Dene Ranch in Mabton. It was on their dairy the nation's first Mad Cow incident was identified in December 2003.
They dealt with the matter with complete and confident composure, said Smith. "They strongly believe that the solidarity of support from this community as seen by the press, the public and the government helped to shade the outcome of the event in a favorable one for them and for the food animal industry," he said.
"This community was the reason we got up each day during that time. We got a lot of support and we thank you for that," said Sid Wavrin.
The Chamber awards ceremony ended with the announcement that long-time Chamber secretary Rhoda Giffen will be retiring from her position to move to West Richland.
"It has been a pleasure to work with you, the community and the chamber," said Giffen.
More than 175 people attended the banquet, which also serves as the Chamber's major fund-raiser of the year. The annual silent and dessert auctions netted the Chamber nearly $5,000.