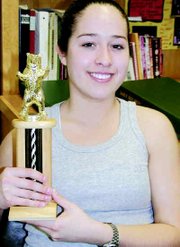 KENNEWICK - Led by Sunnyside High School senior Kacee Jo Bootsma, the Sunnyside High School science fair contingency cleaned up at the Mid Columbia Regional Science and Engineering Fair held in Kennewick this past weekend.
Bootsma, who had hoped to bring home the Regional Grand Champion medal, not only accomplished that goal, she earned 11 special awards in a variety of scientific categories for her efforts, said Robin Bryson, who was this year's local science student advisor.
Bryson said Bootsma's stormwater project earned her an all-expense paid trip to Phoenix, Ariz. in May to attend the International Science and Engineering Fair.
Bryson gave credit to Joyce Stark, who is on a sabbatical in Washington D.C., in aiding Bootsma on her project.
"It was our first long distance science project," said Stark this morning by telephone.
"We used faxes, e-mails and a lot of cell phone minutes to get the project completed," said Stark.
Stark said she also mentored Dianna Mendoza, who earned second place honors at the Regional fair, and Brenda Barrios, who collected a honorable mention honors for her project.
Sunnyside High School ninth grader Michael Watts earned first place for his project, Bryson said.
"Our high school students swept the honorable mention awards and earned a lot of special awards," said Bryson.
Earning honorable mentions at the Regional fair were Mayra Serna, Beatriz Carrillo, Avaril Martinez, Brittany Messmore and Alyson Waddle.
A complete list of the students' special awards was not available at press time.