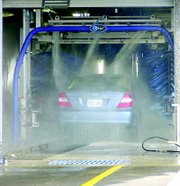 Calling for a multi-million dollar drought emergency plan late last week, Washington Gov. Christine Gregoire also called for all Washingtonians to conserve water to prevent further drought conditions.
One such way Gregoire suggested to conserve water was for state residents to forego washing their cars this summer.
Jerry Gilliland, Department of Communications Director for Gov. Gregoire, said that the drought this summer will affect the communities in the state differently.
"Some communities are really going to have a severe water shortage," said Gilliland.
He said that some communities will need to find creative ways, such as encouraging residents not to wash their cars, to conserve water sources.
"Gregoire suggests going to car washes that recycle their water," he added.
Sunnyside Valley Irrigation District Director Jim Trull said such conservation methods as holding off on washing cars will not have a big impact on the irrigation supply locally.
"Those types of things would have an impact in larger cities, such as Seattle and Tacoma," said Trull.
He said local farmers can help conserve water by practicing good irrigation habits, including not letting water run off the fields.
But, the summer water supply is something that will not only affect farmers, but those living in town.
In some communities with shallow wells, summer droughts can mean that local water utilities with shallow wells will have to look to creative ways of conserving water, such as authorizing people to water their lawns on certain days, said Gilliland.
Sunnyside Public Works Director Jim Bridges said the city isn't too worried about the water supply this summer.
The city's water supply comes from a number of wells scattered around town.
"Our main concern is people trying to make up their irrigation difference with city water," he said, explaining that some people who live within the city limits and have access to irrigation may try to make up for irrigation shortages with city water.
Currently, the city is in the process of developing two additional wells, which will help keep up the with growth of Sunnyside.
Bridges said Sunnyside has some deep wells, much deeper than a domestic well on a small farm.
"Our wells are 300 to 1,700 feet deep," said Bridges. "We're down in deep aquifers."
Bridges doesn't believe that using water for things such as washing cars will have a big impact on the water supply this summer.
He said that even if water demand does get high, the city can start up well 10, an old well the city once relied on.
Providing water for fire service and drinking water are two major concerns for the city.
"There's been no conversations about any other conservation methods at this time," he added.