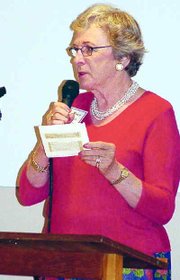 As a child Nancy Stolz remembers wanting to have a sister. An only child, she missed out on that special relationship.
Growing up in the Tacoma area, Stolz lived on a 3,000-bird chicken farm. It wasn't long before she found out that both she and her father were allergic to chickens.
So, her family began moving from home to home as her dad would make repairs to a house and then resell it.
"I know of people who have had friends since they were five," the guest speaker at the Lower Valley Christian Women's Club said Monday afternoon.
Always feeling lonely as a young girl, her loneliness did not improve.
One of the only children at a party of her parents' friends, a long-time friend of her mother's who lived in California came up to Stolz and her mother and said, "Oh, is this the girl you adopted."
Not knowing she had been adopted, the shocking news took its toll.
"I remember going and sitting in the car for the rest of the night," she said.
Her parents later came to the vehicle and never brought up the subject of her adoption.
"I was finally told, 'We'll tell you on your 15th birthday'," Stolz shared. "Then it was my 16th and 18th and finally, we'll tell you the night before your wedding."
It was a subject her parents never brought up.
Stolz said that the news that she was adopted made her feel unwanted.
"Other babies were not being given away," she said.
Stolz finished high school and became involved in a church. She was teaching Sunday school when she was at a church service and the pastor opened up the Bible and started talking about Jesus being your friend. The pastor said that although he is our friend, sin in our lives have kept us from him.
It was when listening to her pastor that Stolz accepted Jesus into her heart, turning her life over to him.
Life hasn't always been easy since, she said. Her husband was killed in a car crash, leaving her with four children.
"People say time heals all wounds, but it doesn't," she said.
It was after the death of her husband that she began the search for her birth mother.
After two years, Stolz found the woman who gave birth to her and has since developed a close relationship with that part of her family.
It has now been 13 years since she and her mother first met.
"For me it has been a very good situation," she said. "I got my sister out of it and two brothers."
Stolz said her half-sister, Jean, doesn't believe in halves, and told her, "...you're my sister."
Stolz went on to share that some people are playing the church person role, like she did for the first time, not ever making a decision to accept Jesus. Stolz encouraged the women to look at their lives and make a decision for Jesus if they haven't already.
"It's your choice," she said. "You're either for or against him."