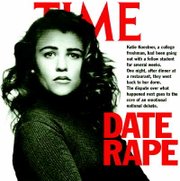 Katie Koestner, a nationally recognized speaker and survivor of date rape, will present her story to Sunnyside parents, middle and high school students March 21-23.
Koestner weaves a story of her date rape at age 18 with stories of both sexual assault and empowerment from male and female students across the country, said Julie Kaplicky, the Sunnyside School District Community Relations coordinator.
Kaplicky said Koestner's theme of responsibility, with alcohol, gender communication and respect for self and others are intertwined with her personal story from being a victim to being a survivor and becoming a national spokesperson against date rape.
She will meet separately with female and male students in grades seventh through 12 grades during her three-day visit to the school district, said Kaplicky.
Her programs spur awareness and behavior change among teens and their parents, Kaplicky added.
Koestner's expert public speaking skills combined with her outstanding leadership and passion for change are what makes this program an annual topic of sexual misconduct by the administrations and orientation committees at West Point, Amberst, Williams, Brown and the University of San Diego and nearly 50 of the most competitive, independent schools in the United States, Kaplicky explained.
The faculty at both Harrison Middle School and Sunnyside High School will receive training on how to respond to sexual misconduct as part of Koestner's visit to the school district, she said.
Special parent nights have been scheduled for Monday, March 21, and Tuesday, March 22, at 7 p.m. The program to be held Monday night at the Sunnyside High School auditorium and repeated on Tuesday at the Harrison Middle School gym is entitled "Teen Sexual Culture: An Update for Parents." In this program, parents will receive information on the topics of sexual culture and misconduct among today's teens. Koestner will give parents the tools to communicate more effectively with their kids about difficult gender issues, Kaplicky said.