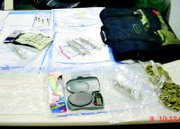 Teodomiro Esquivel Jr, 19, of Sunnyside was arraigned Monday morning in Yakima County Superior Court on a charge of possession of a controlled substance.
Esquivel was arrested by Sunnyside police detectives March 9, at his home in the 400 block of West Madison Avenue, in the Carnation district.
Police began investigating Esquivel's daily habits after they received tips he was selling drugs from his home. More than 85 grams of marijuana, digital scales, cash and packaging materials were found at Esquivel's home.
Esquivel has been charged in Yakima County Superior Court. He was released on his own recognizance Monday.
An omnibus hearing will most likely be held on April 21 with a pending trial date of May 2.