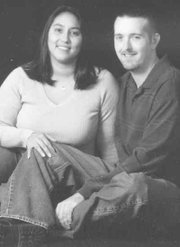 Former Sunnyside resident Amy Aguilar will marry Michael Mohr, both of Hillsboro, Ore., at 4 p.m. Saturday, Oct. 8, at Brookwood Baptist Church in Hillsboro, Ore.
The bride-to-be is the daughter of Bruce and Evelyn Lewis of Sunnyside and the granddaughter of Melvin and Suzie Mallonee and Juan Aguilar, also of Sunnyside.
She is a 1997 graduate of Sunnyside High School and currently works as the accounts manager for Get-Benefits, Inc. in Portland, Ore.
The groom-elect is the son of Steve Mohr of Hillsboro and Laura Burlet of Sheridan, Ore. He is a 1993 graduate of Hillsboro High School and is currently the store manager for Game Crazy in Hillsboro.
Following the wedding, a reception will be held in the couple's honor at Rock Creek Country Club in Portland.
More like this story