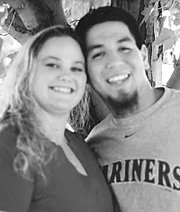 Mon Bel Ami Chapel in Las Vegas, Nev. will be the setting of the wedding ceremony uniting Sondra Hall and Travis Aguilar, both of Sunnyside.
The wedding will be held at noon, Friday, June 10, 2005.
The bride-elect is the daughter of Harriet Wertenberger of Sunnyside and Randy Hall of Pasco and the granddaughter of Vada Wertenberger and Betty and the late Robert Hall, Jr., both of Sunnyside. She is a 1999 graduate of Sunnyside High School and will graduate in May from Heritage University with a degree in elementary education.
The groom-elect is the son of Bruce and Evelyn Lewis of Sunnyside and the grandson of Melvin and Suzie Mallonee and Juan Aguilar, also of Sunnyside.
He is a 1995 graduate of Sunnyside High School and has been employed by Twin City Foods in Prosser for the past six years.