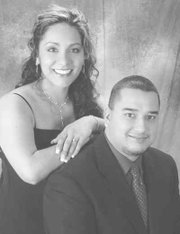 Former Grandview resident Magdalena M. Saldana will marry Leonardo Gonzalez Saturday, Sept. 3, 2005 at Saint Louise Roman Catholic Church in Bellevue. The wedding will be at 2 p.m. Both the bride- and groom-to-be are now living in Phoenix, Ariz.
The bride-elect is the daughter of Mario and Noemi Saldana Sr. She is a 1991 graduate of Grandview High School and a graduate of the University of Washington class of 1998, where she earned her Bachelor's degree in political science and philosophy. She received a minor in society and justice. While at the university she was a member of Gamma Alpha Omega Sorority, Inc.
The groom-to-be is the son of Leonardo Gonzalez Sr. of Durango, Mexico and Yolanda Haynes of Bellingham.
He graduated form Bellingham High School in 1991 and attended the University of Washington, where he received his Bachelor's degree in political science. He graduated with the class of 1996. Gonzalez was also a member of Brotherhood of Omega Delta Phi Fraternity, Inc. while at the University.