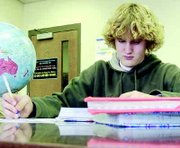 Which country's vegetation regions range from the Nubian Desert in the north to the tropical rain forest in the extreme south? The United States Naval Academy is in Annapolis, the state capital located closest to what large bay? One of the world's largest oil exporters borders the North Sea and the Arctic Ocean. Name this country.
These are the types of questions that faced Sunnyside Christian Elementary School eighth grader Chris Newhouse as he sat down to take the qualifying test for the 2005 Geography Bee.
Thanks to Newhouse's ability to correctly answer these tough questions, as well as many others, the 13-year-old will be taking part in the 2005 Washington State Geographic Bee set to take place Friday, April 1, at Pacific Lutheran University in Tacoma.
Newhouse said he is looking forward to the state competition, adding that it will give him and his family a chance to visit with relatives in the area.
However, when asked if he plans to study for the state geography bee, his answer was simple, "I might, but probably not."
Newhouse said he has always done fairly well in geography, adding that last year he took third in the school wide geography bee. This year, Newhouse took first place honors.
But before Newhouse could compete in the school bee, he had to get through the qualifying round. He explained that the competition started off in his classroom. He said the students in his class took turns answering different geography questions out loud, and after several rounds of questions he found himself in second place in his classroom. Newhouse explained that the top two finishers from each of the classroom competitions advanced to the school-wide geography bee held in the gym.
Newhouse said during the school-wide bee, students answered geography questions in front of the entire student body, adding that if you got two answers wrong you were out.
In the end, Newhouse was the last student standing.
As for the coming state geography bee, Newhouse said he's not sure what to expect, but thinks it will likely be structured similarly to the school bee.
During the state geography bee a winner will be selected to represent Washington in the national finals at the National Geographic Society headquarters in Washington, D.C. on May 24-25. The state winner will also receive $100. The national winner will receive a $25,000 college scholarship.
By the way, the answers to the first three questions: Sudan, Chesapeake Bay and Norway.