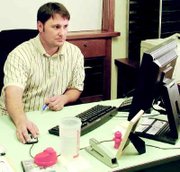 Shane Fisher has long wanted to work in municipal government and now he has his opportunity and plans to make the most of it in Sunnyside for many years to come.
Fisher, 35, was hired on Feb. 7 as the new associate engineer for the City of Sunnyside. Fisher's main duties are to assist Public Works Director Jim Bridges.
Fisher hails from Arcata, Calif., but moved to the Pacific Northwest in 1980, shortly after the eruption of Mt. St. Helens. Fisher is a 1987 graduate of Kennewick High School. After high school, Fisher served in the Navy in San Diego for two years. After a few years, Fisher decided to return to school to earn an applied science degree in engineering technology, which he did from ITT Tech in Seattle in 1996.
Fisher lives near Benton City with his wife, Coralee, and his 9-year-old son, Mason, and 4-year-old daughter, Madalyn.
"It really wasn't too much of a tough decision (to come work for the City of Sunnyside)," said Fisher.
Fisher said he enjoys working with everyone at city hall and enjoys the variety of his job.
"I like the people I work with here," said Fisher.
Fisher brings with him a wide variety of experience. He was a self-employed building contractor for several years and has worked for Cascade Fire Protection dealing with fire suppressing systems.
Fisher said he is very familiar with how to do the type of work that is needed with his job, citing his knowledge of construction and piping that is a big part of his duties with the city.
One of the first duties Fisher was given was to transfer the plans of the various water, sewer and gas lines within the city over to an electronic program. Fisher says he has vast experience with AutoCad design.
"It is a little bit of everything," Fisher said when asked to describe his job duties. "I take some of the workload off Jim (Bridges)."
Fisher said he enjoys the line of work he is in and has always enjoyed the different aspects of the job he does now. Fisher said he became interested in pursuing a different career while laying concrete for a couple of years.
"I thought this stuff is for the birds," smiled Fisher. "I like the drawing (aspect). I like the problem solving."
Fisher has also been able to utilize some of his experiences in assisting the different department heads, such as Fire Chief Aaron Markham. Fisher has been helping Markham with questions on fire suppression systems.
In his spare time, Fisher enjoys hunting and fishing and taking part in adventure racing, which is an ironman event of sorts involving trail running, mountain biking and kayaking.
"It is very grueling," said Fisher. "It is pretty brutal. You definitely find out what you are made of."
Fisher said he has enjoyed his time in the community so far.
"People are really involved in the community," he said. "I like it here. I don't plan on going anywhere anytime soon."