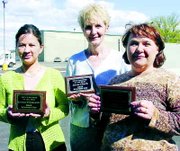 Three women employed by the Department of Social and Health Services Sunnyside Community Service Office were surprised Wednesday, March 9, when they were each presented with 2004 Employee of the Year plaques.
Connie Villanueva, Vickie Carter and Sara Clark were each honored by their peers at a luncheon and presented plaques for their achievements.
Villanueva, who has an 11-year work history with the state office, said it was an honor to be chosen to receive the 2004 Employee of the Year Individual Performance Award.
As a financial services specialist with the state office, she was chosen because of her performance furthering the DSHS vision, mission and goals.
In the past year alone, Villanueva assisted two new workers, who had been hired to work in the call center, and has been willing to take on extra work when need or asked.
"It's very gratifying to be recognized," said Villanueva, who has been employed by the local state office for 11 years.
Clark also received a 2004 Employee of the Year Individual Performance award for her performance and furtherance of the DSHS vision, mission and goals. She has worked at the local state office for the past 16 years.
Clark, who is the secretary to the facility administrator, put together the ceremony at the local DSHS office. Knowing all the details of the ceremony from start to finish, she was probably the most surprised to receive her award. Clark said she didn't even recognize her own biography as it was being read. It wasn't until her name was called that she realized she had received an award.
Carter's award was slightly different than the ones received by her co-workers. She received the 2004 Employee of the Year Brita Customer Service Award.
The Brita award recognizes those employees who provide outstanding customer service as they are often the first contact for customer service encounters for clients. Carter has been with DSHS for the past 24 years.
The three women were chosen for the awards based on criteria developed in Olympia. The staff at the local office selected the three for the awards.
"These people work very hard," said Office Administrator Maria Vigil. "They do a fantastic job working the community and working with clients. The awards are well deserved."