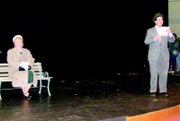 Although the musical "She Loves Me" may not be one of the best known by composer Jerry Bock and lyricist Sheldon Harnick, who also wrote the songs for "Fiddler on the Roof," its theme is very familiar.
It is the basis for the movies "The Shop Around the Corner" with Jimmy Stewart, "In the Good Old Summertime" with Judy Garland and "You've Got Mail" with Meg Ryan and Tom Hanks.
The musical, which is based on a Hungarian story, takes place in the mid-1930s and tells the tale of Georg and Amalia, co-workers who cannot see eye to eye, but in the evening the two secretly and unknowingly write love letters to each other.
After they each fall in love with someone they have never met, the two agree to meet at a cafe, which sets up the rest of the story.
In the Valley Theater Company performance of "She Loves Me," Amalia will be played by Tracy Honeycutt of Grandview. She will be acting opposite Kurt Reeser of Yakima, who will be playing Georg.
Valley Theater Company will be performing "She Loves Me" beginning Friday, March 18, at 7 p.m.
Evening performances will also be held March 19, and March 25, at 7 p.m. Matinees will be at 2 p.m. Sunday, March 20, and Saturday, March 26.
A good-humored musical, the show can be enjoyed by the entire family.
Tickets for "She Loves Me" are $10 for adults and $8 for students and seniors. Tickets may be purchased at the door or at Elfers-Lyon Pharmacy in Prosser, at Grandview Safeway or the Daily Sun News in Sunnyside.