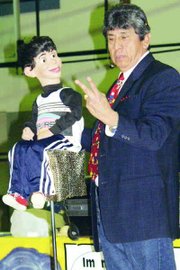 GRANDVIEW - The message of last night's presentation was simple, teach your children to respect others and they will respect themselves. However, it was the messenger himself who might have raised a few eyebrows.
Last night, Lower Valley families packed the gymnasium at Grandview Middle School to listen to ventriloquist Nacho Estrada, and his entourage of puppets with names like Maclovio, Tortilla Monster and Guacamole.
Before Estrada had even made a move to bring out any of his friends, he was teaching the many children in the audience an important lesson - not to talk when others are talking to you, instead you listen.
Estrada then told the parents in the audience that it's important for children to learn early on to respect others. He explained that children who respect others, end up respecting themselves and not getting into drugs and alcohol later in life.
"So you know what discipline means?" Estrada asked the audience. "It means to teach."
He added that discipline helps to instill respect in children, which is something he feels is so important. Estrada quickly added that when disciplining your children it is important to do it with love.
Estrada said he sees too many toddlers controlling their parents now-a-days. He gave an example of watching a four-year-old boy beg his mother for a candy bar at the check-out stand. When the mother refused, the child hit the floor and started yelling and crying. In no time at all, the child was allowed to have the candy bar. Estrada said it's behavior like this that can be combated with discipline and respect.
Before bringing out his puppets, Estrada had one more message for the parents, and that was to set a good example for their children.
He said there are a lot of people who are addicted to watching Spanish soap operas. Estrada said children watching those television shows with their parents learn from them, watching as people fight with each other and argue.
"Kids are learning from these shows," Estrada said, recommending if parents watch the soap operas, they do so when their children aren't around.
And then Estrada brought out his own little helper, a puppet by the name of Maclovio, who acted like a naughty child. The puppet ended up telling Estrada that the night before he had been hanging out with some of his friends and they had given him a bag, which he was supposed to hold onto.
Estrada then asked the children in the audience if they are supposed to take bags from strangers. They all answered with a resounding no.
Estrada explained to the puppet the reason he shouldn't have taken the bag, noting that it could be filled with anything.
Estrada then gently laid Maclovio back into his case and started going through the bag the puppet's "friends" had given him. In the bag Estrada found a small liquor bottle, a can of spray paint, a pack of cigarettes and a can of beer.
Estrada then told both the children in attendance and his puppet why each of the items found in the bag are dangerous.
He pointed out that alcohol can be dangerous to those under the age of 21, because those younger than 21 are still growing and can't handle the effects of the drug.
"Alcohol is a killer of young people," Estrada added.
Pointing to the can of spray paint, he told the audience that inhaling the chemicals found in things like spray paint and glue can actually kill brain cells that won't grow back.
"You mean you go loony tuney?" Maclovio said.
When looking at the pack of cigarettes, Estrada noted that tobacco is a drug that kills 50 people every hour.
"It says right here (on the label) - tobacco causes lung cancer," Estrada said.
He then looked at the parents in the audience and told them they need to teach their children to talk with their bodies, to sit up straight, look people in the eyes and let their children know when they are offered drugs or alcohol to say no and run away.
In the end, Estrada explained the key to keeping children away from things like drugs and alcohol is to teach them respect and self-esteem.
"If you don't tell them they're beautiful, when they go to high school they might think they are ugly and start smoking," Estrada explained. He also added it's important for parents to give their children a hug before they walk out the door every day.