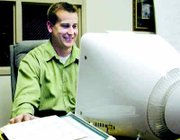 Barring the Sunnyside School Board rejecting the recommendation of district administrators, Ryan Maxwell will be one of the new assistant principals at Sunnyside High School next year, a role to which he has become accustomed.
Maxwell, 32, is a native of Grandview, having graduated from Grandview High School in 1991. Teaching is kind of in the blood of Maxwell, as his mother, Sue, is a long-time teacher in the Grandview School District. Maxwell is also the son of noted Lower Valley attorney John Maxwell.
After graduating from Grandview, Maxwell attended Spokane Falls Community College for a year before transferring to Washington State University in 1996. Maxwell earned a Bachelor's degree in history with a certification in education. He also minored in English while at WSU. Maxwell has to his credit a Master's in teaching from Grand Canyon University and his K-12 administrative certification from Heritage University.
Away from school, Maxwell spends time with his wife, Sindy, and their two children, 4-year-old Kaden and 9-month-old Kyan.
Maxwell said he was never interested in becoming a lawyer, like his father.
"Being a lawyer never appealed to me," said Maxwell. "I saw my dad's long hours. Besides, I like to be around kids."
History has been something that Maxwell has always been interested in. Maxwell said he had great high school and college history teachers, which made him lean towards becoming a teacher of the subject.
"It was a natural fit," said Maxwell.
So after college, Maxwell began his student teaching in the Sunnyside School District under the watchful eye of Jim Galbraith. Following his student teaching, Maxwell was hired as a teacher at PRIDE High School for two years.
"I taught everything at PRIDE," said Maxwell. "I learned at PRIDE all kids can learn."
After a couple of years at PRIDE, Maxwell transferred to Sunnyside High School, teaching a variety of history classes for the last six years.
This past school year Maxwell began his administrative internship. Over the last few months Maxwell has been filling the shoes of Assistant Principal Jan Schuette, who left Sunnyside to take a principal's job on the west side of the state. Maxwell is expected to be named permanently to the position pending approval from the Sunnyside School Board at a future meeting.
"I love teaching," said Maxwell. "But I wanted to affect kids on a larger level. I have been very fortunate to be in this position."
Maxwell said he appreciates the guidance that Galbraith gave him during his student teaching.
"I had an excellent mentor in Jim Galbraith," said Maxwell. "He kind of threw me in there."
When it comes to teaching, Maxwell said he has the philosophy he as a teacher has to constantly learn like his students.
"You have to go about it with a positive outlook," said Maxwell. "Kids appreciate good teaching. You have to be more than a good teacher. You have to know your kids."
In addition to finishing up his administrative internship, Maxwell is also guiding the high school's senior project efforts and the school improvement plan. Maxwell is also involved with dealing with discipline and attendance issues at the high school.
Maxwell also has the unique honor of being named the high school teacher of the year last year, one of the awards the Sunnyside School Board hands out near the end of the school year.
"I didn't expect it," said Maxwell. "I tried to do the job the best I could. We have a lot of good teachers at our school."
In his spare time, Maxwell likes to run and golf, a sport he recently took up.
"I try to hit the ball," joked Maxwell of his golfing endeavors.
Teaching has been a unique experience for Maxwell.
"It is never boring. Every day is a new experience. It is exciting for me. I enjoy it," said Maxwell. "I pretty much leave it all out there (with teaching). I think I was always sincere and generous with my students. That is me."