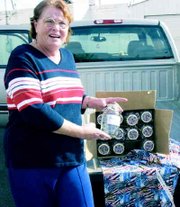 It's time to dredge up your spare change for this year's Sunnyside Fourth of July fireworks display to be held at Sunnyside High School football field.
The Sunnyside Lions Club, aided by Carol Stone, began distributing donation jars this past week at local businesses.
The jars are ready for the jingle of Sunnyside residents' spare change, said Ray Fujiura, Lions Club treasurer.
"We already have a little more than $1,600 in savings for this year's show," said Fujiura. But in order to present the community with an outstanding evening of pyrotechnics color nearly $3,000 must be collected by June 1, he said.
The Lions have established a community fireworks fund at the Sunnyside branch of Banner Bank, where patriotic-minded citizens and fireworks enthusiasts can donate their contributions to the program, said Fujiura.
In addition to collecting donations, several fund-raisers are also being planned by local groups to aid the cause. The veterans groups at SunnyView VFW Post #3482 are currently planning a seafood benefit for April 29, to help finance this year's celebration. A silent auction is also being planned to accompany the veterans' dinner.
The fireworks show will culminate a day-long series of events to be held in Sunnyside on the Fourth, including the annual Soapbox derby races and family activities in Central Park.