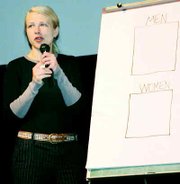 After telling a boy she liked "no" 12 times, he still pushed ahead to have sex with the pretty, young, blonde college freshman.
His defense? "When she stopped saying 'no,' I thought I had won her over."
But her failure to say no a 13th time still didn't give him the right to rape her. And that was the message Katie Koestner is sharing with Sunnyside High and Harrison Middle School students this week in the Sunnyside School District.
Monday night, Koestner stood before an auditorium of only about 50 people to alert parents that their children are also at risk for date rape, regardless of gender or age.
Koestner had been on campus only 10 days in the fall of 1991, when she was raped by a boy she had found attractive. He was a boy she admits with whom she was connecting. But her attacker, a handsome, self-confident, young man, shattered her life and trust when he took advantage of her budding friendship by ignoring her pleas for him to stop.
That was the year Koestner's life changed forever. It was the year she put a national face on a crime that until then was a society secret.
Today, the pretty, young anti-rape activist travels from town to town, from state to private college, sharing the message that date rape is a crime and that America's children are all at risk.
She shares stories of incidents of date rape occurring at parties, in movie theaters in college dorm rooms every day. She relates stories of date rape occurring because boys and girls think they have to give in to conform with society's image of what a strong young man should be like and how a sexy, young girl should act.
Koestner is asking parents to help her change that image. "Help your children see themselves outside the box we place them in," she urges.
Koestner said that when she was in college, the average age of sexual assault among girls was age 16 to 24. Today the most at risk age group of girls is those between the age of 12 and 18, she said.
"For boys the peak at risk age is between 5 and 12," she said.
"Girls are most at risk of being victims of date rape between the eighth and ninth grades," she said.
"Do you really know if your children are sexually active?," she asked.
"Do you know if they are putting themselves at risk by using the Internet to conduct surveys on web sites with names like "howhot are you.com?" she asked.
Tonight (Tuesday) parents will have a second chance to hear Koestner's "Teen Sexual Culture: An Update for Parents" and to learn ways to safeguard their children.
Koestner will be speaking at the Harrison Middle School gym from 7 to 8:30 p.m.
"I was naive about dating. But your children can be protected. We have to tell them how to protect themselves," she said.
.