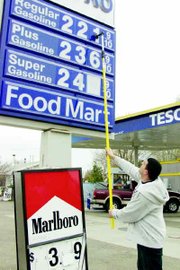 For about a month Mike Said, owner of Park-N-Pak on the corner of Ninth Street and Lincoln Avenue, has watched as the gas prices in Sunnyside have, once again, been on the rise.
At first, the changes were only a penny or two per gallon.
"When it goes up one or two cents we don't do anything about it," said Said, referring to changing the price of their gasoline.
Yesterday (Tuesday), the price jumped six cents, forcing Said to up his prices from $2.10 per gallon to $2.16.
Just when Washingtonians were getting used to gas prices in the $1.80 a gallon range, the prices are once again creeping up.
According to AAA of Washington, the average price of self-serve regular unleaded gasoline in Washington is $2.16 per gallon, 18 cents higher than it was a month ago. The United States average is $2.09 per gallon.
Most of the gas stations in Sunnyside follow the state average. Pik-A-Pop on the corner of 16th Street and Yakima Valley Highway was selling regular unleaded gasoline this morning (Wednesday) for $2.16 per gallon, as is SunnySpot.
In Grandview, the AmeriStar gas station on Wallace Way is selling regular unleaded gasoline for $2.14 per gallon.
In Yakima and the Tri-Cities the gas prices aren't much better.
As of yesterday, the average price of gasoline in the Tri-Cities was $2.12 per gallon. A month ago the prices were at $1.95 per gallon and a year ago the prices were $1.75 per gallon, according to AAA data.
In Yakima, the most recent price of gasoline was $2.15 per gallon, which is up 15 cents from a month ago. At this time last year the gas prices were $1.80 per gallon, said AAA officials.