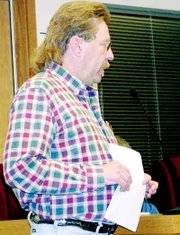 GRANGER - Saying a stray dog he had recently adopted shouldn't have been shot by police last week, Granger resident Grant Norwood asked the Granger City Council last night to re-examine its dog ordinances.
The dog, a year-old male American bulldog, was shot when it turned on Granger police officers during an animal control call reported March 14. The dog, thought to be a Pitbull-type dog by the police, had attacked a neighbor's dog and cat and then threatened police officers when officers attempted to capture the dog.
According to the police report, officers used three shots from an AR-15 patrol rifle to put down the animal.
Norwood, who was accompanied to the Tuesday night Granger City Council meeting by family members and other animal activists, said the dog hadn't previously shown aggressive behavior.
"Barney was a mellow dog and attentive to my 3-year-old daughter. We were enamored of the dog and wouldn't have been considering keeping the dog if it had demonstrated dangerous tendencies," Norwood said.
Norwood said he took his concerns to the Granger City Council because he felt the police officers acting in the capacity of animal control officers had no formal training. They mistook the dog for a Pitbull, he said, adding shooting and killing the animal was an extreme action.
"I would hope the city could use more humane methods," Norwood said.
Granger Police Chief Robert Perales said the officers operated within the limits of the city rules regarding animal control.
"We are not dog experts," he admitted. "The officers on the scene believed the dog to be a Pitbull, and it was demonstrating extremely aggressive behavior," Perales said.
"The officers had to made a call in a short amount of time," he said. The residence where the incident occurred was within four blocks of a Granger school. "It happened near the time children would be getting out of school. They felt there was a real danger," Perales said.
"Our city ordinance, which deals with stray and vicious animal at-large issues, gives police officers the right to deal assertively with aggressive or vicious animals," said Perales.
Norwood's fiancee, Natalie Friend, came forward last Friday to accept responsibility for the dog and was cited with a dangerous dog off-premises citation, which carried a fine of up to $250, said Perales.
Granger Mayor David Leach said the Council has not heard of other complaints from citizens regarding the police's animal control methods. "There is concern about the number of stray dogs in our community, however," he said.
The Granger Council made no comments regarding Norwood's report on the dog shooting incident, but Leach said the Council may be addressing the matter at a future workshop.