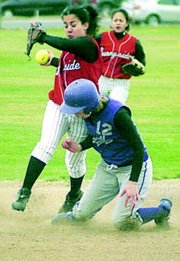 ZILLAH - Considering Zillah was a 1A State tournament qualifier last season and lost only two starters off that squad, the Sunnyside Christian High School girls softball team made a decent showing against the Leopards yesterday.
Playing their season opener Tuesday afternoon the Lady Knights were shut out 5-0. Despite the whitewashing, Sunnyside Christian drew several positives from the non-league game.
"I can't say I was unhappy with how we played," said SCHS Coach Sandy Harris.
She noted that her players only fanned four times in the seven-inning game. "We were making good contact. Unfortunately, a lot of the balls we hit were hit hard right at someone," she explained.
All told, the Lady Knights only came up with two base knocks, both singles by sophomore Brittany den Hoed.
The first rap off the bat of den Hoed came in the lead-off hitter's first plate appearance. A walk drawn by junior Courtney Rice put two ladies aboard in the top of the first, but the potential rally went for naught "...because we made a couple of base running errors," said Harris.
Sunnyside Christian never really threatened again.
Zillah, which received a 2-for-4 performance from Amanda Goudy, plated two runs in the bottom of the first. The Leopards added a pair of insurance runs in the fifth and closed out the scoring with a single tally in the sixth.
Harris said in addition to her club putting a lot of pitches into play, she was buoyed by the performance of hurler Emily Hernandez. The SCHS junior went the distance, scattering five hits-none for extra bases-while striking out six and walking only three.
"Emily pitched a nice game," said Harris. "She had a lot of control, especially for this early in the season."
The biggest difference in the game, Harris said, was the six errors the Lady Knights committed. Zillah had only one miscue.
Sunnyside Christian resumes non-league play this coming Thursday against visiting Liberty Christian of the Tri-Cities. The Lady Knights' first home game of the season is scheduled to begin at 3:30 p.m.
SCHS 0 0 0 0 0 0 0 -0 2 6
Zillah 2 0 0 0 2 1 x -5 5 1
Hernandez and Ty. Van Wingerden. Rathbun, Schilperoort (4) and Olivas. Hits-(SCHS) den Hoed 2/3; (Zillah) Goudy 2/4.