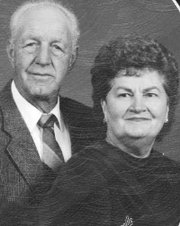 Frank and Wanda Schilperoort of Sunnyside celebrated their 50th wedding anniversary March 18, with a trip to the Columbia Gorge Hotel and the Oregon beaches.
The trip was a gift from their sons, Craig and wife Lori Schilperoort and Tyler and wife Kristine Schilperoort, both of Sunnyside.
Before leaving on their trip the couple celebrated their anniversary with family, March 17, at Tyler Schilperoort's home.
Frank Schilperoort and Wanda Maxey were married March 18, 1955 at the First Baptist Church in Sunnyside.
Mr. Schilperoort is a retired farmer and Mrs. Schilperoort is a homemaker. The couple has seven grandchildren.