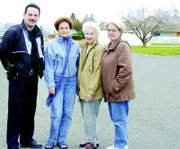 GRANDVIEW - The public comment period at a city council meeting can be a very powerful thing. It can be a chance for community members to approach their elected officials and voice concerns about what is happening in their own back yards.
The public comment period is where concerned citizen Deborah Hanson and members of the Grandview Community Mobilization group first brought their concerns about what was happening in their neighborhood to council and pushed to get something done about it.
The group's efforts to update city ordinances to include chronic nuisances came to fruition earlier this week as the Grandview City Council voted to approve an updated nuisance ordinance that covers everything from animal noises to lewd conduct.
According to City Administrator Jim Sewell, it had been nearly 25 years since the nuisance ordinance had been addressed in any detail.
Hanson said when she first started looking into nuisance ordinances she found that Grandview's focused more on property maintenance than it did on curbing unwanted activities.
"We had nothing," Hanson said.
She and neighbor Jan Nordstrom noted that when the police would be called in to deal with what are now categorized as nuisances, the local police didn't have anything they could do. Both Hanson and Nordstrom hope the passage of the new nuisance ordinance will change that.
However, before the updated nuisance ordinance could be passed, a lot of hard work went into drafting it. Hanson said she first learned about nuisance ordinances that detailed chronic harassment issues when she hit the internet. She said she found chronic nuisance ordinances in communities in Oregon and Washington, noting that communities as close as the Tri-Cities had chronic nuisance ordinances.
She said she took the information she pulled together and showed it to her neighbors, who supported the idea of the creation of a stronger nuisance ordinance. Then she took her plan further, sharing the information with Sewell, Grandview Police Chief Dave Charvet and other department heads.
Hanson added that during one of her neighborhood's block watch meetings she handed out a copy of Mt. Hood's nuisance ordinance to everyone in attendance.
Last summer, Hanson and members of her block watch group stood up during a city council meeting and voiced their concerns about what was happening in their neighborhood, and presented the idea of the creation of a stronger nuisance ordinance for the city.
"We need to make [Grandview] a wonderful place to live," Hanson said.
She noted that her group was pleased to see Grandview's elected officials show interest in working on updating the community's nuisance ordinance.
"We didn't really meet much resistance," she said, adding that her group realized that it wasn't a change that would come over night.
Hanson and her neighbors attended many city council meetings over the past few months, weighing in with their comments about the nuisance ordinance and reminding council that it was a needed change.
Flipping through the newly adopted nuisance ordinance, Hanson said the portion of it she is the most pleased with is titled "chronic nuisance properties." This portion of the ordinance deals with properties that have been cited with three or more nuisance activities in a 60-day period, as well as properties involved in unlawful activities, including drug related activities, assault, permitting prostitution and lewd conduct.
"Hopefully this is a major step in helping citizens deal with nuisance situations in their neighborhoods," Sewell said.
Although the ordinance does give local police the authority to deal with these types of nuisances, Hanson said she is happy to see that the nuisance ordinance also allows people a chance to abate the nuisances before they are issued a citation.
"The nicest thing about this is it does give people time...to remedy the condition," Hanson said.
Now that the ordinance has been passed, Hanson said she is interested to see how well it will be enforced.
Sewell said he is planning to get together with the city's code enforcement officer and other department heads to ensure that everyone is aware of the updated ordinance.
"This is not made for neighbor to fight neighbor," Hanson said. "It's basically keeping up your end of the neighborhood."
Hanson and her block watch neighbors, known as the Grandview Community Mobilization group, is now working to promote the creation of block watches in other neighborhoods in the community. She added that they hope to make a big push for new block watches this summer.