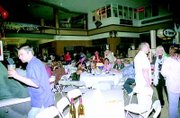 UNION GAP - One needed a special pass to step into the darkened halls of the Valley Mall last Saturday night.
Once past the mall security guards, one was transformed to the street-like setting of New Orleans in the middle of Mardi Gras. The reason for the transformation? It was the second annual Parti Gras and Playhouse on Parade fund-raiser.
But more than just a time to spend money for a good cause, Saturday's event was a time to relax and enjoy an evening of old-fashioned entertainment. Draped with multiple color, Mardi Gras-type beads, Parti Gras participants were encouraged to loosen their purse strings and support a number of worthy causes.
The mall was filled with party-goers whose faces were hidden by feathered and hand-painted masks, dancing to cool Southern jazz or the warmer Cajun music. When not snacking on tantalizing barbecue ribs or Cajun chicken wings, chased by cooling samples of Yakima Valley wines and microbeers, the party-goers tried their hands at riverboat-style gambling at the upstairs Parti Gras casino.
The party atmosphere was created for the serious task of raising money for the Epic Crisis Nursery and a number of other community service projects.
The annual Parti Gras 2005 Playhouse on Parade celebration was hosted by United Builders as a benefit.
The hundreds of Valley residents who attended the mall after-hours Mardi Gras-theme party were entertained by circus performers, who encouraged people to participate in the lavish Parti Gras silent auction.
The playhouse parade, which features a lifeguard station, a doggie condo, a little red schoolhouse, a rocket and a clubhouse, is still on display at the Valley Mall. People may still buy a raffle ticket to win one of the lovely miniature houses. Tickets are available at a special booth located in the Valley Mall. The drawing for the playhouses will be held Sunday, April 24, at 4 p.m. Tickets are $2 each.