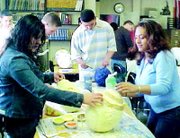 Students are getting their hands dirty at PRIDE High School. First year science teacher Teri Alvarez-Ziegler has spent the last year bringing in hands-on activities for her students, ranging from creating planets out of paper mache to sitting under an inflatable canopy of stars.
The latest project Ziegler's students took on involved a traveling planetarium. Ziegler said she talked to her alma mater, Heritage University, and was able to get Greg Van Doren to come in to PRIDE High School and bring with him a 13-foot tall inflatable planetarium.
Ziegler explained that the students in her physical science class had been studying astronomy, learning about light and planets, and she knew that bringing in a planetarium would bring everything they had been studying to life.
She noted that the planetarium was so large it had to be set up in the school district's maintenance shop, which is located directly next door to the school. Ziegler said the students were able to walk inside the inflatable dome and watch a projected image of the solar system. She added that the presentation included everything from up-close images of certain planets to detailed looks at different zodiac signs.
"It was just like looking up at the night sky," Ziegler said.
She added that she thinks it's important to bring different experiences, like the planetarium presentation, to her students.
Over the course of the past year, Ziegler's students have learned about thermal energy through making ice cream, they studied different types of lenses then watched as Ziegler dissected a cow's eye, showing them the different lenses in the eye. They recently had a chance to dissect flowers, looking at and labeling different parts of the plants.
Although the school year is starting to wind down, things are not slowing down for Ziegler and her students. She noted that before the year is over she plans to have her physical science class make and launch rockets and create air-powered cars. As for her biology class, Ziegler said they will soon be studying the animal kingdom, adding that she plans to have every student in her class choose a different animal to write up a report on and then create an informative PowerPoint presentation on the animal. She said the presentation will then be shared with parents during parent night.
Ziegler thinks bringing all of these interactive opportunities to her students is a good thing.
"When they actually experience something they obtain a higher level of learning," she said.
Ziegler added that bookwork doesn't necessarily make students work. Instead, she said, it often times just asks them to memorize different facts and regurgitate them for tests.
Ziegler takes a different approach to teaching. She spends the first few minutes of every class lecturing to her students, then she opens the floor for discussion. She added that she does make her students do vocabulary lessons, noting that she uses the textbook more as reference material for her classes.
Ziegler said she also encourages her students to work together.
"I do allow them to talk in my room," she said. "I do allow them to have an opinion."
Ziegler said when she first started teaching at PRIDE she found that her students were hesitant to share their opinions and ideas in her class.
"The biggest hurdle was their hesitation to be creative," she said. "They weren't used to someone asking them their opinion."
That is no longer an issue for Ziegler. She said her students now share their viewpoints on different topics and are learning from each other.