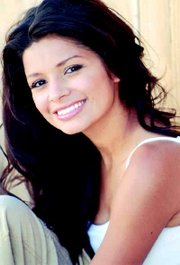 SAN ANTONIO - When Kristina Guerrero dusted Sunnyside off her shoes and headed for college in the fall of 1998, she left town with a promise that she was going to do big things with her life.
"I promise," she said.
Today, at the tender age of 25, the attractive, young professional is making good on that promise. Guerrero is making a name for herself as the host of "Great Day S.A.," a daily morning news program televised on station KENS 5 in San Antonio, Texas.
"It's a live show broadcast from 9 to 10 a.m. on the CBS affiliate in San Antonio," said Guerrero.
As the both the host and producer, Guerrero has the opportunity to interview local celebrities and review local and hot spots in the colorful Texas metropolis.
"It's great here," she said in a telephone interview Wednesday morning from her KENS-TV office.
Guerrero, who is already finding herself a San Antonio Spurs fan and in love with the River Walk Park, a popular tourist attraction in the historic Texas city, said she made the move to Texas after living for five years in Los Angeles.
"L.A. was a hard city to live in, so coming to San Antonio is a nice change," she said.
But more importantly, living in San Antonio is giving Guerrero the opportunity to rack up one more notch on her dream to be in front of the camera as a broadcast journalist.
Her job as a morning host of her own show is a dream come true, Guerrero said.
"Anyone who knows me knows this is what I've always dreamed of doing," she said.
Guerrero, who attended the University of Washington before transferring to the University of Southern California, was featured earlier this month in a cover story for La Prensa de San Antonio, a San Antonio entertainment magazine. In the article, written by Kiko Martinez, Guerrero is described as a woman of perseverance, passion and fearlessness. She also admits to being a small farm town girl with a big dream. The realization of that dream has included working as an intern with a Los Angeles Fox television affiliate on the morning show, "Good Day Live." She got her first break on newly developed Hispanic television station SîTV. Guerrero said she got her big start on its national program called "The Rub," which her Sunnyside friends and family could watch over Dish-TV.
But her shining star moment, said Guerrero, came when she was hired to be a special correspondent for the NBC entertainment program, "Access Hollywood."
"I knew I had arrived," she said.
It was there Guerrero had the overwhelming opportunity to interview on the red carpet people like Jim Carrey and rock and roll diva Brandy. When the opportunity came three months ago to move to San Antonio to host her own program, Guerrero didn't hesitate.
Going on gut instinct, the self avowed risk taker packed her bags, made yet another cross country move and fell in love with the Alamo City.
The daughter of Delma Guerrero, she was a normal high school student, charged with a desire to be involved in all of her school's activities, from cheerleader to student council. But always in the back of her mind was the desire to be a star.
"That has been my ultimate goal," said the personable, young woman.
"I just never imagined I'd reach my dream quite so soon," she laughed.
"What I do next, I just can't envision," she added.
"But I'll promise you this, I'll make you proud," she said.