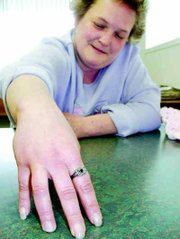 Coralea Farris-Pickett of Grandview remembers exactly where and when she lost her shiny 1982 Sunnyside High School class ring. As she recalls, she lost the pretty, silver ring just two years after she received it.
Farris-Pickett said she lost it while at the Kennewick Coliseum attending a concert in the Tri-Cities in 1984.
"I remember exactly how I lost my ring," said Farris-Pickett. "I flushed it down the toilet when my hand hit the side of the toilet. The ring just slipped off my finger and floated down the drain," she recalled.
"I knew it was gone forever," she said.
But this past week the missing ring was recovered by Dan Steward, a Kennewick sanitation worker, who found the ring while cleaning Kennewick's sewer lines. He called the staff at Sunnyside High School seeking its owner.
Steward said he was seeking information concerning a student with the initials C.F., which are engraved on the side of the ring. Sunnyside High School counseling office secretary Rosie Kranz remembered that a Coralea Farris attended Sunnyside High School in the grade behind her. So Kranz called Farris' mother, Mary Farris, who still lives in Sunnyside, asking if her daughter, Coralea, had lost her class ring.
By Tuesday morning, the now 22-year-old ring was back on Farris-Pickett's finger.
"I never expected to see it again," said Farris-Pickett.
"I feel like I've won the Lotto," she said.
"It's sure nice to know there are still kind people out there who will take the extra step to return lost property," said Farris-Pickett.
Not many people would have taken the extra time to do that, she added.
How long does Farris-Pickett plan to wear the ring this time around?
"Just until the excitement of having it back wears off a bit. Then it's going into a safe place," she said.
"I'd hate to lose it again."