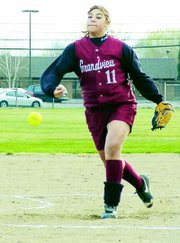 by Bob Story & Elena Olmstead
With Amanda Montelongo and Lacey Yanez each banging out a pair of hits, the Sunnyside High School girls fastpitch softball team dealt visiting Grandview its first loss of the season yesterday.
The 8-3 non-league win boosted Sunnyside's record to 2-0 on the season. The Lady 'Hounds slipped to 1-1.
First year Sunnyside Coach Ralph Mendoza said Thursday's contest wasn't a cleanly played game, noting that a total of 10 errors were committed, seven by his club.
"But the errors were spread out over the game. They didn't hurt us too badly," he said.
Overall, Mendoza added, he is elated the Lady Grizzlies have jumped out to a 2-0 start on the season.
Sunnyside scored all the runs it would need in the bottom of the second. Trailing Grandview 1-0, the Lady Grizzlies put a four-spot on the board. Yanez's two-run double was the key blow in the frame, although Emily Jones came through with a clutch RBI single and Montelongo added a single-base knock, as well. Jessica Cruz, Samantha Taylor and Amber Epps each draw walks for Sunnyside in the fourth.
Vidi Pasillas (1-0) earned her first victory of the season for Sunnyside from atop the pitching rubber. She fanned four in four innings of work. Reliever Erica Garza pitched the final three innings for the Lady Grizzlies, giving up just one run along the way while striking out one.
Grandview hurler Sarah Trevino (0-1) never got out of the second inning. After yielding the three hits and three walks to the Lady Grizzlies that frame, Greyhound Coach Doug Hansen pulled her in favor of pitcher Mari Cornejo, who finished the pitching chores for Grandview.
Hansen said Trevino couldn't get her feet under her there in the second. At this point in the season, Hansen added, he thinks his team needs a little more bounce in its step.
"We need more energy," he said.
Hansen added that he thinks the historic rivalry between Grandview and Sunnyside played a part in yesterday's loss by his team.
"The Sunnyside rivalry thing seems to get in our heads," he said.
Sunnyside continues its non-league schedule with a single game at Kiona-Benton next Tuesday. Grandview is scheduled to host Wapato this afternoon (Friday) at 3:30 p.m. Originally, Wapato was scheduled to travel to Grandview for a non-league doubleheader this coming Saturday.
G'view 1 0 0 1 0 0 1 -3 3 3
S'side 0 4 2 0 2 0 x -8 7 7
(0-1) Trevino, Cornejo (2) and Cruz. (1-0) Pasillas, Garcia (5) and Epps, Ramos (7). Hits-(S'side) Montelongo 2/3, Yanez 2/3.