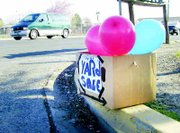 Idling at the intersection of Lincoln Avenue and South First Street early on a Friday or Saturday morning, drivers can be privy to a colorful display of bright pink, florescent green and day-glow orange. But it isn't a colorful display of spring flowers pushing up through the ground. Instead, it's a cluster of attention grabbing yard sale signs, pointing potential customers in the right direction.
Despite that location's popularity as a yard sale sign haven, Building Inspector Mike Storms and City Planner Jamey Ayling note that the intersection is not a legal or safe place for those signs.
Storms said Code Enforcement Officer Bill Eikenbary can often be seen driving around during those early morning hours picking up signs and placing them in the back of his pickup truck.
Storms explained that often times yard sale signs can be found blocking city right-of-ways, obstructing sidewalks and nailed to power poles. All of these are illegal yard sale sign locations. He added that information regarding where to post yard sale signs can be found on the city's yard sale permits.
One of the reasons yard sale signs can be considered a hazard when placed out on the sidewalk, Storms said, is because it forces those people walking down the sidewalk to move into the street to go around the posted sign.
As for being placed in right-of-ways, Storms said the signs can block drivers' vision and become a hazard.
Storms said the past couple of years the city has been going out and picking up signs that are posted in violation of the city ordinance addressing yard sale signs.
He explained that city officials will head out and notify people if they see a yard sale sign that is posted in violation of the city ordinance, asking the person having the yard sale to take care of the issue. He added that if the sign poses an immediate hazard city officials will pick up the sign and take it back to the person having the yard sale, informing them of why it was removed.
Storms explained that there are appropriate places to post yard sale signs. He said signs can be posted on the yard sale host's property or on any piece of private property if proper permission has been granted. He added that still those signs need to be about five feet back from the road.
Over the years, Storms said he has seen yard sale signs in all shapes and sizes. He said he has seen signs posted on large plastic barrels and put out at intersections, as well as large wooden sandwich boards.
Storms said another issue the city has with yard sale signs is that people often leave their signs out long after the sale has concluded.
"We are tearing them down in the middle of the week," Storms said, adding that by that point the signs are basically litter.