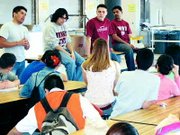 Inspiration is the name of the game when it comes to the Sunnyside GEAR-UP program. Over the past few weeks, the local program has brought in new speakers and programs, all aimed at giving students a chance to see different things if they put their minds to it.
Recently, students from Washington State University came in and visited with the students about college life. A radio broadcaster from Yakima talked to the students about his career and an educational construction company taught students about building something with their own two hands.
GEAR-UP Site Director Lino Gutierrez said the four WSU students, two local students and two from the west side of the state, volunteered their time during their spring break to come and talk to Sunnyside students involved in the GEAR-UP program.
Gutierrez said the WSU volunteers spent a day with the kids, taking part in their regular activities and mentoring them. He noted that later in the day the WSU students took part in a panel discussion, talking about what it took for them to get to college and what a typical day is for a college student.
"The kids were really excited to talk to the WSU mentors," Gutierrez said.
Just one day after listening to the WSU students talk about college life, local GEAR-UP students were greeted by another guest.
Gutierrez said GEAR-UP brought in a broadcaster from the Yakima radio station 99.7FM. The broadcaster, known as Blaze, spoke to the students about his career in radio and how he got there. Gutierrez said he showed the students that having goals is important and that he is still moving forward with his.
"The kids were really excited about him," Gutierrez said.
Just last week, local GEAR-UP students got another view of the world. An educational construction company from Seattle visited the GEAR UP program, and took the 18 students through the construction process, putting together an 8-by-12 foot house. Gutierrez said the students put up the home's walls, trusses, doors and windows, doing everything it took to put the home together.
GEAR-UP isn't just looking to teach children about the different options available to them after high school. Gutierrez said the group recently supported a parent information night at Harrison Middle School for parents of the Superstars small learning community.
Gutierrez noted that four times each year GEAR-UP attempts to help put together a parent night, which gives parents a chance to visit the school, meet their children's teachers and learn about everything from how to read a progress report to what assignments different classes are working on.
Gutierrez said there were approximately 75 parents in attendance at the most recent meeting.