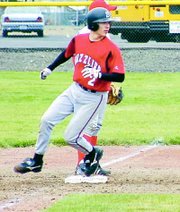 This past Saturday's non-league game against Bellingham is one that got away from the Sunnyside High School baseball team.
Bellingham scored five runs in the last two innings to down the Grizzlies 10-4. But despite the loss, Sunnyside Coach Dave Martinez isn't too disappointed heading into this coming weekend's league opener at Mid-Valley League power Selah.
"We are right where we should be," said Martinez.
Bellingham came into Saturday's game at Sunnyside fresh off a 9-6 victory over West Valley Friday afternoon. Bellingham had 13 hits against the Rams on Friday and finished with 15 Saturday against Sunnyside.
Tyler Cullen pitched a solid five innings for the Grizzlies, allowing six hits and two walks while fanning two. Bellingham scored three runs in the third inning and two in the fourth off Cullen. But of the five runs charged to the Grizzly hurler, only two of them were earned.
"He pitched a pretty good game," said Martinez of Cullen.
Bellingham ended up getting four runs off Sunnyside relief pitcher Tyler Esqueda, who hasn't seen much time on the mound early in the season.
"They (Bellingham) are a good hitting team,' said Martinez.
Martinez said Bellingham was just able to get some hits off Esqueda, who he feels will be a solid number four pitcher for Sunnyside this year.
Joel Zakahi came into the game in relief, tossing 1-1/3 innings. Zakahi gave up just three hits and two walks while fanning a pair of runners.
Sunnyside hit the ball well, racking up 10 hits. Cole Boboth continues to swing a solid bat for the Grizzlies, as he went 2-for-4.
Martinez said he wasn't displeased with the effort by his team. About the only chance the Grizzlies missed in the game came in the fourth inning when Sunnyside had runners on first and second and couldn't score.
Sunnyside scored one run in the second when Timmy Briones hit into a groundout to plate Derek Uberuaga. In the third inning, Boboth scored Pete Marquez on a single and then Eric Crimp plated Chris Newberry with his single. In the bottom of the seventh, Uberuaga had a ball hit the fence for a double that scored Boboth.
Sunnyside (0-0, 2-3) travels to Selah for a doubleheader this coming Saturday to open league play.
"We are going to find out where we are this weekend," said Martinez.
1 2 3 4 5 6 7 T H E
Bellingham 0 0 3 2 0 4 1 10 15 0
Sunnyside 0 1 2 0 0 0 1 4 10 2
Pitching-Tyler Cullen six hits, two strikeouts, two walks in five innings. Tyler Esqueda six hits in 2/3 innings. Joel Zakahi three hits, two strikeouts, two walks in 1-1/3 innings.
Hitting-Joel Zakahi 1-for-2. Tyler Cullen 2-for-3. Derek Uberuaga 1-for-3 with a double in the seventh inning. Eric Crimp 1-for-3. Cole Boboth 2-for-4. Pete Marquez 1-for-4. Chris Newberry 1-for-4. Tyler Esqueda 1-for-4.