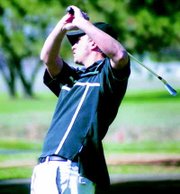 Powered by Kevin Lick and Andrew Michels, Sunnyside and Grandview earned sixth and seventh place team finishes, respectively, at last Friday's Grandview Boys Golf Invitational, staged at Black Rock Creek Golf Course.
Lick carded the fourth lowest individual round of the 18-team invite, a 3-over 75, in leading Sunnyside to its sixth place finish.
Michels had the 14th lowest individual round of the tourney, an 8-over 80.
Friday's medalist was Chris Killmer of Bellingham. He toured Black Rock Creek with a 1-under 71. Killmer snagged five birdies on the day, four coming on the front nine in which he got around with a 2-under 34. His Bellingham teammate, Spenser Holdridge, shot an even-par 72 for the second low individual score of the invite.
Despite the low rounds posted by Killmer and Holdridge, Bellingham finished a disappointing third in the team standings, as the next lowest individual score for Bellingham was an 89.
Hanford used its superior depth to win the team championship, tallying an invite low 307 strokes. The Falcons got a 75 from Alex Moore, a 76 from Jacob Henriksen and a pair of 78's from Greg Lucas and Casey Johnson.
Nine strokes back with a second place 316 was the squad from Royal City. Joseph Perkins and James Dykes had the low rounds for Royal with a 76 and 77, respectively.
Bellingham placed third with a 322, with Othello and Zillah a close fourth and fifth with totals of 326 and 328, respectively. Othello's Bart Patitucci and Jason Brault carded a 73 and 78, respectively. Zillah was led by Duran Torrez and T.J. Inions with identical 80's.
Sunnyside claimed the sixth place spot in the team standings with a 332. Enroute to posting his 75, Lick eagled the par-5 14th hole. He also had birdies on the par-3 second, the par-4 seventh and the par-4 10th holes.
The second low score turned in for Sunnyside was an 83, carded by Andrew Schutt. He got around the front side with a 5-over 41, scoring a 42 after the turn. Justin Bos posted an 85 for the Grizzlies on nine-hole scores of 42-43, while Tim Taylor rounded out the Sunnyside scoring with an 89 (43-46).
The host Greyhounds were eight strokes back of Sunnyside for seventh place honors in the team scoring. After Michels' 80, Grandview got a pair of 82's from Sean Tudor and Kaelan Nelson. David Trevino's 96 rounded out the Grandview team total.
Other notable individual rounds posted last Friday included a 76 by Foster's Patrick Kent, an 81 by Royal City's D.J. Solis, an 81 by Zillah's Marcus Kilthau and an 83 by Toppenish's Adam Story.