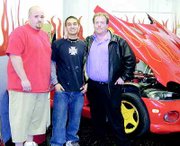 GRANDVIEW - The shop is quiet as Ray Anciso Jr. expertly applies thin yellow tape to the hood of a Dodge Viper. He quickly moves his hand, manipulating the tape into the outline of a flickering flame.
Soon the flames Anciso has outlined will be turned into a fiery addition to the Viper, making it a custom car.
Anciso, facility manager of Cool Touch Customs in Grandview, is not new to the idea of customizing cars. Instead, it's something he has been doing since he was younger, adding that he started by customizing bikes.
After winning award after award at different car shows for his customized creations, Anciso decided he wanted to hone his skills and attend Wyoming Technical Institute, where he studied collision refinishing and street rod and custom fabrication. He added that he specialized in flames and pinstriping.
Chris Leach, owner of Cool Touch Customs, said he has known Anciso for years and built the new shop around his talent.
The shop, which opened two weeks ago, specializes in customizing cars. Leach said Cool Touch Customs is a detail shop that specializes in custom painting and lighting. He added that eventually the shop will start building custom cars, such as hot rods and import cars.
"We want to do something completely different," Leach said.
Leach said those interested in having their vehicles customized simply have to call the shop and set up an appointment. Then the staff will get together with the car's owner to discuss what will be done to the vehicle to add that special touch.
"You come to us with a car and we work on it together," Leach said.
Leach explained that he chose the 807 W. Wine Country Rd. location for the shop because it's a space that is nicely situated between Les Schwab Tires and MB Auto Glass and Upholstery.
"I like what Grandview has been doing with the city," Leach added. "I think it's a great area."
Leach noted that being located in Grandview also puts the shop in the middle of the Valley. He explained that the shop is centrally located between Yakima and the Tri-Cities.
Although the shop recently opened its doors, Leach said it is still a work in progress. He noted that they are beginning to work on cars, but they are still waiting for their paint bay to completed.
Leach said he has been working on the building where the shop is located, which used to be a laundromat and car wash, since last October. He noted that they gutted the entire building, putting up new walls and doors and laying a new floor.
Those interested in visiting Cool Touch Customs can stop by the shop from 9 a.m. to 6 p.m. Monday through Friday and from 10 a.m. to 4 p.m. on Saturday.