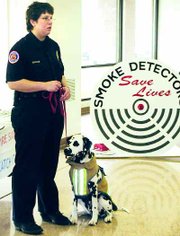 UNION GAP- A new tool in the Yakima County Fire Protection Bureau fire prevention toolbox comes with two coats - a black and white furry coat and a custom-fit fire coat.
The tool's name is Cody, a young Dalmatian pup, who is a the center of a new program designed to prevent tragic, fiery deaths in the home.
"The county's firemen now have at their disposal, Cody, the fire safety Dalmatian, as well as the EDITH house and Sparky the Fire Truck to help bring home our fire safety message," said Yakima County Fire Commissioner Ron Gamache.
Cody is the center star of the county firefighting community's latest fire prevention program, "Fire Safety Fever, Catch It with Cody" program, said Yakima County Fire Marshal Jakki MacLean.
MacLean introduced the fire safety program, along with Cody and his handler, Amy Linder, a county fire investigator Monday morning in Union Gap.
Applauding the firefighters' prevention programs, Gamache said the county commissioners are deeply involved with providing funding for the fire safety program, such as the Fire Safety Fever program.
"We have a lot of concern regarding the number of homes in which death occurs to young children and the elderly as a result of fire. We hope with the use of Cody, we can reduce the number of residential fire deaths," Gamache said.
Wearing his own doggie fire coat, Cody quickly wins over the affections of people interested in spreading the canine-centered fire safety message.
The program is designed to capture the attention of children and senior citizens, said MacLean. The elderly and the very young are the most at risk to perish in home fires, she said.
MacLean said the deadliest hours are between 10 p.m. and 6 a.m., and in many cases a malfunctioning smoke detector is the blame for most residential fire related deaths.
"Children under age 5 are at twice the risk and adults over age of 75 are three times more likely to die in home fires than the rest of our population," said MacLean.
"We've found that using an animal such as Cody helps imprint our safety message on the minds of the very young and the elderly," she said.
Cody, the fire safety Dalmatian and his handler Linder will be traveling around the county spreading fire safety messages that focus on such topics as how to install and test smoke alarms, stop, drop and roll and how to dial 9-1-1, said MacLean.
Linder and Cody will be attending fire department open houses, touring schools and senior citizen centers as part of the fire prevention campaign, said MacLean.
A part of Cody's job will be to tour the county with the EDITH house, the county unit used to teach children how to properly exit a house during emergencies.