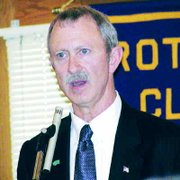 After visiting with Chinese farmers and businessmen for two weeks, followed by hours of careful observation, Sunnyside farmer Rick Herndon believes Americans ought not be afraid of the industrious Chinese.
The long-time Lower Valley resident believes Americans should view the Chinese's move on the world economy as an opportunity to step up and set a higher standard of productivity.
Herndon traveled to China as part of a Washington State Ag Forestry Leadership program in January.
This past Monday, Herndon shared some of his impressions gathered during the two-week trip with the members of the Sunnyside Noon Rotary Club.
The Sunnyside farmer traveled to China as part of a Washington Ag Forestry International tour of four cities in the country of 1.12 billion people. While in China, Herndon and his fellow lay ambassadors toured rural parts of the massive country, as well as the cities of Beijing, Xian, Guilin and Hong Kong.
Rather than view China's push to be number one in international productivity, Herndon believes America needs to review the loss of its work ethic.
The challenges China poses as an economic competitor may be a positive force in raising the bar and motivating the United States to work smarter and harder, he said.
"We have to see China as an opportunity to invigorate America's work ethnic," said Herndon.
"They (the Chinese) have many of the same issues we do. They have the same hopes and dreams," Herndon said. "They are a hard working people and they can serve to remind us how to compete again," he said.
"Our challenge is how we choose to meet their challenge," Herndon told the Rotarian group Monday.
"We've been the top dog for a long time, but other countries, who have looked to us to create new products, are beginning to take the lead. We have gotten really proud of ourselves. But we can't rest on our laurels," he said.
"I saw people working hard to move out of poverty to move ahead," said the Sunnyside man.
Herndon said it was hard for him to see communism working in China, especially in the rural areas.
"There we saw farmers trying to raise good crops in very primitive conditions and making it happen," he said. He said that communist ownership of property may be challenged in the future as people become more capitalistic in their mindset.
Herndon said Americans should view China's effort to gain a better way of life as an opportunity to anticipate what they will need in the future.
"We need to move forward to meet that demand for supplies with the products they can't provide their people," he said.