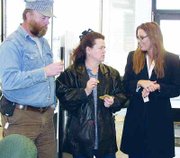 Deborah Stearns, the new branch manager of Bank of the West, 1820 Yakima Valley Highway, opened up her facility to greet the community Tuesday night for a Sunnyside Chamber of Commerce business after-hours event.
Stearns, who started work at the bank last November, had staff and key Bank of the West support staff in attendance ready to speak with customers and others interested in a variety of services offered by the full service bank.
"We have a full range of services," said Stearns.
One of those in attendance was Nancy Boettcher, an agricultural lender, whom Stearns uses to assist dairymen and farmers with project that often top $1 million in costs.
Cassidy Janosky focuses on areas of business development.
"That's her job to help develop business," said Stearns.
Certified financial planner and series 7 stockbroker Claire Ankrum was also at the event. Ankrum is a financial consultant with BancWest Investment Services and is able to help people with retirement plans, said Stearns.
"She works with all of our investments that are not FDIC insured," said Stearns.
Stearns also used last night's after-hours event as an opportunity to introduce herself to the community, as well as her new financial services consultant, Trevor Bardessono, and other staff. With a staff of four working out of the local branch daily, Stearns' staff of Gena Hall and Linda Leppanen were also on hand to greet those in attendance.
Stearns has been in banking for the past 12 years. She has worked as a bank sales manager, a sales manager and a district sales manager, in which she oversaw five bank branches.
She has also worked as an insurance agent and as a certified financial planner.