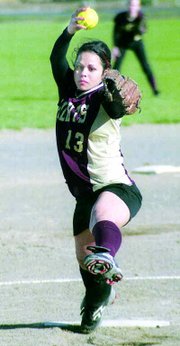 The Sunnyside Christian High School girls fastpitch softball team pulled off a stunner of sorts yesterday by shutting out the Kittitas Coyotes, 12-0.
Kittitas, third at the 'B' State tournament last season and missing only two starters off last year's team, only managed one hit in Tuesday's non-league contest.
Junior hurler Emily Hernandez (2-1) yielded just the one hit in four innings of work while walking only one and fanning one.
"Emily pitched very well in that wind yesterday," said SCHS Coach Sandy Harris.
The story of the game, though, was the offensive prowess of SCHS junior Courtney Rice. Moved from second to shortstop this season, Rice delivered big at the plate. She came through with half of the Lady Knights' six hits on the day. Two of her hits went for extra bases-an RBI triple in the second inning and a solo homer in the third that sailed to straight-away center.
"Courtney's home run was hit very hard," said Harris. "It must have cleared their center fielder's head by at least 10 feet.
"Courtney also had a couple of nice defensive plays at short," Harris added.
The Lady Knights also received a pretty fair effort from Tori Van Wingerden yesterday. The sophomore went 2-for-3 at the plate, which included socking a two-run double in the bottom of the first. The one other hit Sunnyside Christian came up with against the Coyotes was an RBI single off the bat of sophomore Brittany den Hoed.
Tuesday's victory boosted the Lady Knights' record on the season to 2-1. Sunnyside Christian is out of action until Tuesday, April 12, when the team is scheduled to travel to Grandview for a non-league match-up.
Kittitas 0 0 0 0 0 -0 1 5
S'side Christian 6 5 1 0 x -12 6 2
Gibb, Burketta (4) and Schreiner. (2-1) Hernandez, DeGroot (5) and Ty. Van Wingerden. Hits-(SCHS) Rice 3/4-3B, HR; To. Van Wingerden 2/3-2B.